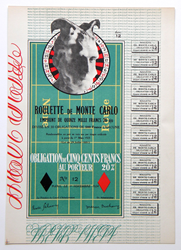 There is something about this piece that always makes people a little bit crazy!
New York, NY (PRWEB) June 03, 2014
AffordableArt101 Fine Prints announced the loan of a rare lithograph by Dada artist Marcel Duchamp to the Swiss Institute of Contemporary Art, in New York, for "The St. Petersburg Paradox" exhibition. Printed in 1938 and issued in Paris by the deluxe art revue "XXe Siecle", the work is called "Obligation Monte Carlo" and is also known as "Monte Carlo Bond". Measuring 12 1/2 x 9 inches, the lithograph shows the infamous portrait of Duchamp taken by photographer Man Ray, superimposed onto a roulette wheel, with a casino gaming table in the background.
Miami-based art dealer Roger Walton of AffordableArt101 Fine Prints, owner of the online art gallery lending the print, says, "The Swiss Institute contacted me and they really wanted this piece for the exhibition, so we're happy to help them out. As an added bonus, being displayed in a museum will enhance the value of the print."
The Swiss Institute wanted to include the Duchamp piece in the exhibition, but locating one of these lithographs had proven harder than they had expected. According to Clement Delepine, Assistant Curator at the Swiss Institute, "Marcel Duchamp's Monte Carlo Bond (1924-1938) provides a seminal example and historical precedent for the exhibition. This parody of a financial document in a system for playing roulette conflates its status as an artwork with monetary value in a playful attempt at bankrupting the Monaco casino through a flimsy financial scheme. In his attempt to "break the bank," Duchamp explores the very same impulse that the St. Petersburg Paradox establishes: the desire to win while avoiding risk."
Walton makes a further point on this theme, saying, "This Marcel Duchamp lithograph marries art with commerce, as Andy Warhol and Damien Hirst would later do. I think you could consider Duchamp the first Pop Artist."
The "St. Petersburg Paradox" exhibition explores the relationship between art and gambling. Delepine says, "Based upon the theory of the same name developed by 18th century Swiss mathematicians, brothers Nicolaus and Daniel Bernoulli, The St. Petersburg Paradox invites artists to consider notions of risk aversion, expected value and gaming."
The exhibition opened on May 27 and will be showing until August 17, 2014. The Swiss Institute of Contemporary Art is located at 18 Wooster Street in New York City. Founded in 1986, Swiss Institute first occupied two living rooms at the Swiss Townhouse at 35 West 67th Street, and originally was run entirely by volunteers. Although the Institute is unaffiliated with any government, the Swiss government agreed to give an annual contribution, in addition to the amount already awarded by Pro Helvetia, the Art Council of Switzerland. In 1994 the Institute moved to a large loft in SoHo, in the center of the New York art scene, and finally in 2011 moved into their current space at 18 Wooster Street, just off Canal Street.
"There is something about this piece that always makes people a little bit crazy! Collectors get excited about it," says Walton, referring to the Marcel Duchamp lithograph. "I think the portrait is the reason for this," continues Walton, "the way Duchamp stares right at you. Slightly ridiculous and a little sinister at the same time, it captures the viewer's attention. This was the photo by the legendary photographer and artist Man Ray, who was also Duchamp's friend."
The portrait, indeed, has sparked much interest and commentary over the years. The substance on Duchamp's head has been variously described as shaving cream, or soapsuds, molded into the shape of either a rooster's comb, or a satyr's horns, or perhaps an even darker creature. The history of the piece is fascinating: in 1924 Marcel Duchamp hatched a scheme to "break the bank" in the casinos of Monte Carlo by using a system for betting on roulette, with investors to be offered shares in the enterprise. Duchamp set up a joint stock company with plans to raise 15,000 francs for the venture, and planned to issue bonds to investors. The original issue called for 30 bonds, but far fewer were ever produced. The bonds themselves (in their first incarnation) were mixed media collages mounted onto cardboard. Thus was born Marcel Duchamp's "Obligation Monte Carlo". Almost none survive; one specimen resides at MoMA (The Museum of Modern Art in New York) and another was auctioned at Christie's for $1,082,500 in 2010, realizing long after the artist's death the large gains he never achieved from the project during his lifetime.
The second incarnation of this work is as a lithographic recreation, executed by Duchamp in 1938 and published the same year by the Parisian art revue XXe Siecle. Approximately 1200 copies (or "impressions", as print collectors prefer to say) were printed. A lithograph is a type of print, and because of Duchamp's creative involvement in the process, this is considered to be an original work of art, even though multiple impressions were printed. It is one of these that AffordableArt101 has lent to the museum for its exhibition.
Marcel Duchamp (1887-1968) was a French artist who had enormous influence on Modern Art, being influential in the development of Cubism, Futurism, Surrealism and Dada art. Among his best known works are the painting "Nude Descending a Staircase" and "Fountain", a sculpture of a urinal that was one of his famous "Readymades." "Obligation Monte Carlo" is also a Readymade.
In addition to this Dada classic, the AffordableArt101 online gallery features many styles and genres of original art prints, including Impressionism, Expressionism, Cubism, Surrealism, Abstract Expressionism and Pop Art. "It's been a great season for new acquisitions," says Walton, "including some nice Chagall lithographs, Kandinsky woodcuts and some interesting pieces by Picasso, Renoir and Matisse, just to name a few."
AffordableArt101.com is among the pioneers of a growing trend of galleries selling exclusively online, offering stiff competition to traditional "bricks-and-mortar" galleries. According to Walton, "With lower overhead costs we can offer the same pieces as other dealers but at much lower prices. You can find us online at http://www.affordableart101.com."