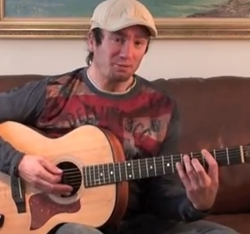 Stevie Ray Vaughn and John Mayer also use this chord voicing a lot
(PRWEB) June 01, 2014
"Some people refer to the E#9 (E Sharp Nine) as the Jimi Hendrix chord", says Darville, which he demonstrates as; 7th fret of the 5th string with 2nd finger, 6th fret of the 4th string with first finger, 7th fret of the 3rd string with 3rd finger and 8th fret of the 2nd string with 4th finger. "What I refer to as the Jimi Hendrix chord is something different", says Darville. Jacques demonstrates what he calls the Jimi Hendrix chord as follows; 7th fret of the 5th string with 3rd finger and bar first finger across the 5th fret of the 4th, 3rd and 2nd strings. This chord voicing can also be referred to as D/E because it is a D Major voicing with an E bass note. "You may have heard this before", says Darville, "Stevie Ray Vaughn and John Mayer also use this chord voicing a lot." Jacques continues this easy blues guitar lesson by playing different variances of the chord incorporating licks with techniques such as hammer-on and pull-off's to really make it sing. Guitar TAB's are available for this easy blues guitar lesson at BluesGuitar.com.
James Marshall "Jimi" Hendrix was an American rock guitarist from Seattle Washington. Hendrix is regarded as one of the most influential guitarists of the 20th century even though his career only lasted four years. Over the span of his short career he released four studio albums and one live album and was awarded 7 Lifetime Grammy Awards. Hendrix passed away on September 18th 1970.
Jacques Darville
Jacques Darville is Danish born American who specializes in both acoustic and electric blues. Jacques has taught guitar and music for over 16 years. He is a graduate of Oakland University in Detroit Michigan where he earned his B.A. in music/performing arts. Jacques currently resides in Copenhagen Denmark where he teaches guitar to students of all ages, and actively plays with his band, Darville Duo. In addition to having a great deal of recording experience, Jacques has also toured in the USA, Denmark, Holland, Austria and the Philippines, both as a solo artist and with different bands.
About BluesGuitar.com
BluesGuitar.com is the leader in modern blues guitar instruction. It's packed with resources including articles, video lessons, and the best videos in the business for the beginner to the advanced guitar student taught by the best instructors out there.