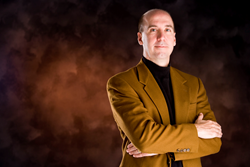 The potential for the Internet of Things is truly enormous, and people need to be ready for all that it can do to enhance their lives.
Minneapolis, MN (PRWEB) June 03, 2014
Futurist Jack Uldrich will be kicking off several of the June tour stops on the Verizon Wireless Connected Technology Tour. Touted as an opportunity to find out what's possible with Verizon's Connected Solutions and machine-to-machine (M2M) technology, Uldrich will specifically highlight how the "Internet of Things" (IoT) can transform business.
An internationally recognized and respected expert on future trends, change management and "unlearning", Uldrich has several other engagements throughout June as well--his topics range from "Why the Future of Aging Demands Unlearning" to holding a special session for government officials at the Minneapolis Verizon event discussing how the IoT will transform government in the coming years.
When discussing the IoT, Uldrich has said, "While today's IoT—FitBits, Nest thermostats, and smart light bulbs, etc., might not feel terribly futuristic that's because only 1 percent of all physical objects are currently connected to the Internet. When the remaining 99% are connected it is possible that our future might just feel as cool as the Jetson's was to us when we were kids."
Uldrich has worked with IBM, Cisco, WiPro, Wells Fargo, General Electric, General Mills, United Healthcare, Pepsico, the Young Presidents Organization (YPO), Pfizer, among many others.
A writer as well as a speaker and consultant, his books include the best-selling, "The Next Big Thing is Really Small: How Nanotechnology Will Change the Future of Your Business," and the award-winning books, Into the "Unknown: Leadership Lessons from Lewis & Clark's Daring Westward Expedition" and "Jump the Curve: 50 Essential Strategies to Help Your Company Stay Ahead of Emerging Technologies." His most recent works include, "Higher Unlearning: 39 Post-Requisite Lessons for Achieving a Successful Future," and "Foresight 2020: A Futurist Explores the Trends Transforming Tomorrow."
Uldrich's June Verizon Tour stops and other engagements include:
Tuesday, June 3: Atlanta, Georgia, Verizon Wireless, Marriott Century Center
June 4: Racine, WI, Economic Development Corporation
June 5: Chicago, Illinois, Verizon Wireless, The Westin O'Hare
June 7: Sedona, Arizona, Scottsdale Lincoln Health Network
June 10: Columbus, Ohio, Verizon Wireless, COSI (Center of Science & Industry)
June 11: Minneapolis, Minnesota Community Transportation Association of America
June 12: Minneapolis, Minnesota, Verizon Wireless, The Depot Renaissance
June 17: Detroit, Michigan, Verizon Wireless, The Inn at St. John's
June 18: Saratoga Springs, New York LeadingAge New York
June 19: New Orleans, LA Financial & Insurance conference Planners Annual Meeting
Parties interested in learning more about Jack Uldrich, his books, his daily blog or his speaking availability are encouraged to contact Amy Tomczyk at (651) 343.0660.
Jack Uldrich is a renowned global futurist, technology forecaster, best-selling author, editor of the quarterly newsletter, The Exponential Executive, and host of the award-winning website, http://www.jumpthecurve.net.