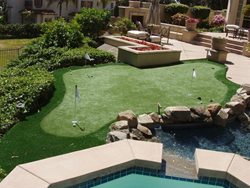 EasyTurf's superior synthetic grass products are matched by a dedication to exceptional craftsmanship and customer service.
Vista, CA (PRWEB) June 04, 2014
EasyTurf is scheduled to join LaDainlian Tomlinson at the 2nd Annual LaDainian Tomlinson 5K 1-mile Kids Fun Run June 14 at San Diego's Liberty Station.
EasyTurf staff will set up an interactive display, giving the public an opportunity to see and feel the industry leading synthetic turf. A drainage tank will also demonstrate the ingenious engineering of EasyTurf's proprietary MaxxFlo backing, an especially important point for pet owners.
"It's great to work with LT and his organization again," said David Hartman. "His Touching Lives Foundation is a charitable organization we love to support."
Post race activities will include and autograph booth featuring current and former Chargers players and local celebrities, free food and drinks, and Fun Zone, featuring bounce houses from L.B. Jumpers Express, games and contests.
"EasyTurf has been an innovator of synthetic grass landscaping and has taken a leading role in educating consumers of our many benefits," said Jackie Luper, EasyTurf Vice President, Marketing. "We're excited to partner with LT in part because we'll have a great opportunity to talk with home owner about our resource-saving turf, but also because there's going to be a lot of fun!"
World renowned dog whisperer, Cesar Millan recently introduced EasyTurf artificial grass as his turf-of-choice for pet owners. Millan says drainage was critical in his decision to partner with EasyTurf on the 10,000 sq. ft. installation of artificial grass at his Dog Psychology Center in Santa Clarita, Calif.
"We have a lot of land to cover, so it's important to me that our landscaping is easy to care for, safe for our pack and has proper drainage," said Millan. "Not only does Easy Turf look just like natural grass, it helps to eliminate common lawn problems associated with pets like brown spots from urine, tracked in mud, grass clippings and it can even deter your dog from digging holes."
EasyTurf uses a proprietary 100 percent permeable artificial grass playground surface backing, MaxxFlow, for unmatched drainage capabilities. Unlike a grass lawn, rain will not turn your EasyTurf surface into a mud pit. Natural grass lawns require regular maintenance, tremendous amounts of water, pesticides, herbicides, fertilizer and time. EasyTurf's durability is also unmatched.
"EasyTurf's superior synthetic grass products are matched by a dedication to exceptional craftsmanship and customer service," Hartman said. "Our commitment to excellence continues to attract homeowners and commercial businesses searching for functional, aesthetic improvements."
About EasyTurf:
In May 2010 EasyTurf, Inc., a long-time distributor of FieldTurf line of landscaping products and a recognized leader in the artificial grass industry, became the national brand of FieldTurf landscape, pets, playground, and golf artificial grass products. The partnership allowed FieldTurf to rapidly expand its existing dealer network and accelerate sales and distribution of FieldTurf landscape products on a national level to homeowners, municipalities, schools, businesses and the military.
EasyTurf is North America's preeminent source for landscaping, offering state-of-the-art synthetic lawns for realistic, beautiful, easy-care residential and commercial landscapes, providing specialty synthetic grasses engineered specifically for military surfaces, commercial and residential athletic and playground surfaces, putting greens, and for pet-friendly landscapes. EasyTurf product advancements in the synthetic grass industry have led to massive growth for the Vista, California-based leader in life-like artificial lawns that stay beautiful year round.
FieldTurf has long been the world leader in synthetic sports field cover; now EasyTurf joins them as the industry leader in residential and commercial synthetic turf markets.
Contact:
Jackie Luper, VP of Marketing
Phone: (760) 745-7026
Fax: (760) 888-2011