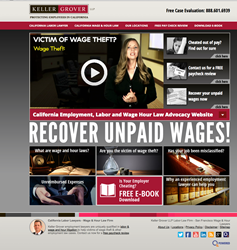 Attorney Eric Grover discusses these in more detail in a recent blog post. Are You A Victim of Wage Theft Asks California wage and hour lawyer Eric Grover
San Francisco, California (PRWEB) June 03, 2014
CAWageHourLaw.com is a new platform that has been launched to help more workers in California understand their legal rights as employees. The San Francisco based labor and employment attorneys of Keller Grover LLP have now developed http://www.cawagehourlaw.com/ to raise awareness about a number of common California labor law violations that are committed against California employees on a regular basis, yet go unreported. Lawyers of the firm note that numerous actions by employers seen by workers as normal are actually violations of the law.
Wage Law Violations Most Employees Don't Know Are Illegal
The California labor lawyers at Keller Grover say there are several violations that occur on a daily basis that more employees should have knowledge about. These include:
Working off the clock
Not being reimbursed for work related expenses
Not being permitted enough breaks
Having to pay fees to cash an out of state check
Job misclassification and more
Attorney Eric Grover discusses these in more detail in a recent blog post. Are You A Victim of Wage Theft Asks California wage and hour lawyer Eric Grover
The following are questions employees should ask themselves to determine whether they have suffered a violation of their rights that are also mentioned in the post.
● Did I work more than 5 hours consecutively without a 30-minute break?
● Have I used my own car, computer or other personal items for work activities?
● Do I pay fees to cash my company's out-of-state payroll check?
For more information about common wage hour law violations in California, or to read the full article please visit http://www.cawagehourlaw.com/labor-law/california-labor-employment.html
The firm has also made available a free eBook download covering unethical practices by some employers for those seeking more extensive information.
For Help with a California Wage Hour Issue
California employees can get help with any wage and hour issue by visiting the new site and requesting a free case evaluation. Whether one is seeking to recover unpaid wages or report a violation, workers can contact the firm today for help.
For more information about how to report a California wage hour law violation, download our eBook or please visit:
Wage Theft Video
https://www.youtube.com/watch?v=o5HpZBavSXw&feature=youtu.be
Tweet us on Twitter
https://twitter.com/CAWageHourLaw
Friend Us
https://www.facebook.com/CALaborLawyers
City Search
http://www.citysearch.com/profile/669283250/san_francisco_ca/keller_grover_llp.html
Media Contact:
Attorney Eric Grover
Partner
Keller Grover LLP
Tel: 888.601.6939