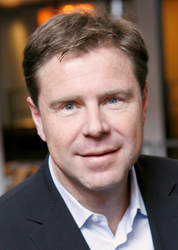 Silicon Valley, CA (PRWEB) June 02, 2014
ParStream, provider of the leading Real-Time Database for Fast Data Analytics, today announced that Peter M. Jensen has taken on the role as the company's Acting CEO with immediate effect, based at the company's Silicon Valley office. Former CEO and co-founder Michael Hummel will focus on ParStream's European operation and take over responsibility for product management, research and development (R&D).
Jensen, an experienced entrepreneur and sales professional, takes the helm to add depth to the company's management and sales capabilities. Co-founder Joerg Bienert will remain at the company's Silicon Valley office, supporting Jensen in his transition and refocusing his responsibilities on business development and partner management.
Jensen brings with him an extensive background in sales and product marketing at major enterprise technology companies including Oracle, Symantec and VMware. Most recently, Jensen was CEO of Stopthehacker.com, acquired by Cloudflare. Prior to Stopthehacker.com, Peter was VP of Sales at Pancetera, a company which helps reduce the cost and complexity of managing and protecting data in virtual server environments, which was eventually acquired by Quantum Corp.
"At this point in our evolution, there is no better person to lead ParStream than an experienced entrepreneur and manager like Peter," said Michael. "His business vision and experience in developing successful sales and marketing functions is exactly what ParStream needs as the company enter into the next stage in growth."
"ParStream is one of those rare companies that have genuinely revolutionized the big data market and I am honored to continue and accelerate Mike's and the team's momentum so far," said Peter. "The opportunity ahead for ParStream is vast and to seize it, we must have a clear focus and continue to transform and adapt to a dynamic and rapidly-changing market. The company is very grateful for the amazing foundation Michael has built over the past six years and we are excited about the additional momentum Mike's relocation will generate in Europe."
# # #
About ParStream
ParStream helps businesses gain immediate insights into their data. As the leading provider of real-time databases, ParStream powers Big Data analytics on the massive amounts of data businesses collect daily. The award winning, breakthrough technology enables ultra-fast, flexible analytics of stored and streaming data. The ParStream Real-time Database is used worldwide in e-commerce, telecommunications, finance, advertising, retail, and mining. Based in Cupertino, Calif., ParStream has been awarded "#1 Big Data Startup" by CIO Magazine, recognized as a "Cool Vendor" in the Advancing Data Management Maturity report by Gartner, and was named "Trend-setting Products in Data of 2014" by Database Trends and Applications. For more information, visit http://www.ParStream.com
To keep up-to-date with the latest industry trends, insights, and perspectives from ParStream, follow us on Twitter @ParStream.
Media contact:
Johnny Truong
Sonus Public Relations for ParStream
(415) 830-4530
johnny.truong(at)sonuspr(dot)com