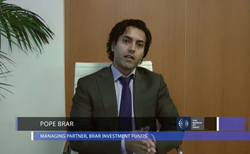 Investors are looking favorably at Emerging Fund Managers.
San Francisco Bay Area, California (PRWEB) June 02, 2014
Brar Investment Capital, LLC announced today that it has been selected to present at Opal's Emerging Managers Summit 2014 in Chicago, Illinois. Brar Investment Capital's Managing Partner, Pope Brar, will present the firm's investment strategy and discuss the benefits offered by emerging investment fund managers over their larger counterparts.
"We are humbled to be selected to speak on a panel at a conference that will feature some of the top emerging investment fund managers. Research provides systematic evidence that emerging fund managers tend to outperform their larger peers, especially in the early years. Performance tends to deteriorate as the assets grow and funds lose their flexibility to invest in a wider universe of investments. We look forward to discussing how investors can take advantage of the opportunity," stated Pope Brar.
The Emerging Managers Summit will be held from June 8 to 10 at the Swissotel in Chicago, IL. The summit will feature participants such as pension plans, family offices, endowments, foundations, and consultants.
"Traditionally, perception of the investor has been biased favorably towards larger more established fund managers but now they are looking at benefits of investing into emerging managers," said Brar.
Brar is best known for his "go against the grain" views and believes that a basket of a few deeply discounted and well researched equities has the potential to deliver satisfying returns in the long term.
"The best in the investment business patiently wait for the right investment opportunity and then prudently hold as the market uncovers value. Investors are looking to grow their capital on an absolute basis and want to invest in strategies that will produce over the long term. One of the best ways to appreciate capital is by investing in a strategy that concentrates holdings in a few well researched names and reduces risk by continuously testing its investments. Idea number 40 is unlikely to add more value than idea 10," said Brar.
Other practitioners of concentrated value investing include names such as Warren Buffett, Seth Klarman, Bruce Berkowitz, Eddie Lampert, Joel Greenblatt, Irving Kahn, Mohnish Pabrai, Guy Spier, Howard Marks, Tom Russo, and Tom Gayner.
About Brar Investment Capital:
Bhupinder "Pope" Brar is managing partner and founder of Brar Investment Capital, LLC. The firm is based in the San Francisco Bay Area and is an investment advisor to Brar Investment Fund LP, which invests globally in value-oriented and special-situation equities. For more information, visit http://www.brarifunds.com or e-mail pope(at)brarifunds(dot)com.
This document does not constitute an offer to sell, or a solicitation of an offer to buy membership interests in Brar Investment Fund, LP. We will not make such offer or solicitation prior to the delivery of a definitive offering memorandum and other materials relating to the matters herein. Before making an investment decision with respect to the fund, we advise potential investors to carefully read the offering memorandum, the operating agreement, the related subscription documents, and to consult with their tax, legal and financial advisors. The fund is offered to accredited and qualified investors.