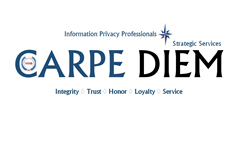 We believe our services will provide insurers with piece-of-mind when conducting risk analysis to determine the appropriate risk categories for companies seeking cybersecurity liability insurance. - CDSS President Chris Stevens
Columbia, Maryland (PRWEB) June 02, 2014
Carpe Diem Strategic Services LLC, an information privacy consulting firm announce the broadening of its strategic relationship with Chenega Logistics, a full-service provider of intelligent innovations and technology solutions, to provide enhanced cybersecurity liability insurance risk management capabilities.
"We are excited to expand our relationship with Chenega Logistics into the cybersecurity liability insurance industry. Using our proprietary comprehensive data protection framework, we can provide insurance carriers with robust cybersecurity and information privacy risk assessments allowing them to better determine the insurability and suitability of prospective policyholders during the underwriting process," stated CDSS President Chris Stevens.
Mr. Stevens continued, "We believe our services will provide insurers with piece-of-mind when conducting risk analysis to determine the appropriate risk categories for companies seeking cybersecurity liability insurance."
Carpe Diem Strategic Services and Chenega Logistics will be appearing at the IQPC 2nd Annual Cyber Security for Oil and Gas Summit in Houston, Texas, from 16-18 June 2014. The IQPC Cyber Security for Oil and Gas Summit will address the major cyber security issues facing the oil and gas industry as a whole and will provide a platform for IT and cyber security professionals to share their wisdom, experience, and thoughts on the future of this complex and often unknown threat to their enterprises.
Carpe Diem Strategic Services
Founded in 2012, Carpe Diem Strategic Services (CDSS) is a Service Disabled Veteran Owned Small Business (SDVOSB) that offers advice and support in developing policies and procedures on how a business handles and protect personal identifiable information (PII) and other sensitive corporate data. CDSS' privacy professionals are certified by the International Association of Privacy Professional (IAPP) (http://www.privacyassociation.org), the global standard for privacy and data protection specialists. For additional information on our company, visit http://www.cdss-llc.com.
Stephen Holland
Chief Operating Officer
sholland(at)cdss-llc(dot)com
Chenega Logistics
Chenega Logistics (CL), a certified 8(a) ANC-Owned Subsidiary of Chenega Corporation. CL's focus is on information security with innovative and cost competitive Managed Services supporting highly secure, complex IT enterprises in business-critical environments in five business areas: Cloud Based Managed Services, Cyber Security, Data Center Managed Services, IT Services and Cloud based Software development and migration.
CL clients benefit from our extensive reach-back capability into our corporate infrastructure inclusive of personnel, technologies, human resources, and business practices and policies such as ISO 9001. The knowledgeable, professional specialists at Chenega Logistics are committed to providing the customer with high-quality technology services and collaboration. For more information, please visit http://www.ChenegaLogistics.com.
Steven Pergament
Director
Steven.Pergament(at)chenegalogistics(dot)com