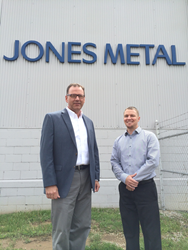 The Avure high-pressure fluid cell metal forming press allows us to better serve our current markets and expand into new ones. --Dan Erb, President and CEO of Jones Metal Products
Västerås, Sweden (PRWEB) June 02, 2014
The installation of a new high-pressure fluid cell metal forming press from Avure Technologies expands opportunities for USA-based Jones Metal Products Company (JMP) to provide economical parts-forming solutions to customers in demanding industries--aerospace, defense, medical, rail, lighting, and power generation, for example--where there is zero margin for error.
The Avure model QFC 0.7x1.8-800 fluid cell press features dual rectangular trays measuring 27.5" x 72" (700 x1850 mm), a size that will enable Jones to expand applications in existing and new markets. The press operates at a highly cost-effective 11,600 psi (800 bar).
According to Dan Erb, President and CEO of Jones Metal Products, in West Lafayette, Ohio, the Avure press results in better parts tolerances and lower per-part production costs.
"We are buying the Avure press to expand our maximum forming area up to 27.5 inches by 72 inches," Mr. Erb comments. "This will allow us to better serve our current markets and expand into new ones. The Flexform process from Avure fits our company very well, and we look forward to the partnership with Avure."
Jones Metal Products currently utilizes several Cincinnati Hydroforming machines. After visiting Avure's manufacturing facility in Västerås, Sweden, the company decided to introduce new forming methods utilizing high pressure as the next step in its planned growth trajectory.
In addition to the press purchase, Avure and JMP have agreed to collaborate in the promotion of Hydroform/Flexform technology awareness in the market.
Mr. Erb comments, "Avure has come to us with a solution, not only with the proper equipment, but also with a long-term partnership that will have our organizations working very closely together. We are very excited and pleased with the Avure approach and business mentality."
Tres Frank, Avure's Business Development Manager, Americas, says, "This press offers Jones a high-production capacity, due to the size of the forming trays in relation to the press cycle time. Combined with its low cost of operation, small footprint, and easy installation directly at floor level, the QFC 0.7x1.8-800 is a perfect match for JMP, delivering the flexibility and growth opportunity the company is looking for."
About Jones Metal Products
Jones first entered the metal forming industry in 1956 with the purchase of their first 32" Cincinnati Hydroform. JMP's capabilities in West Lafayette, Ohio, also include 3 & 5 axis machining, 3 & 5 axis laser trimming, 5 axis router, heat treating, and CNC press brake. Since 1923, Jones Metal has emerged a leader in the hydroforming and metal stamping industry. With over 200,000 square feet of manufacturing space and 11 presses, Jones can handle large volume jobs as well as short-run prototyping. The company has earned a reputation as the best source for complex, technical parts and high-surface finishes.
Read more about Jones Metal Products at http://www.jmpforming.com/.
About Avure Technologies
An innovator with a strong record of accomplishment, Avure Technologies (formerly known as ASEA, ABB, and Flow), demonstrates its expertise in high pressure by occupying leadership positions in industrial and food applications. The company is the largest global provider of ultra-high pressure systems utilized to form sheet metal, to process advanced materials, and to pasteurize foods without heat or chemicals.
Avure has installed over 1,700 high-pressure systems worldwide, more than all other competitors combined. These systems are characterized by technically sound design, superior reliability, energy efficiency, low maintenance costs, and many years of experience. Many Avure presses have been in service for more than 40 years, and some have surpassed 1 million high-pressure processing cycles.
Avure Industrial Group headquarters in Västerås, Sweden, house equipment design, manufacturing, and support operations, with additional facilities in Columbus, Ohio, USA, and regional sales and support operations globally.
Read more about Avure Technologies: http://industry.avure.com.