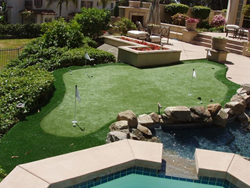 Offering remnant pieces to the public gives customers access to our industry leading synthetic grass at a ridiculously low cost
Vista, California (PRWEB) June 05, 2014
An EasyTurf Blowout Parking Lot Sale is scheduled for June 20, 21, offering customers exclusive pricing on superior synthetic grass.
Leftover, remnant turf will be on sale for as low as $0.89 per square foot as well as discounted turf off-the-roll. The EasyTurf Parking Lot Sale presents an opportunity for do-it-yourselfers and contractors to purchase turf at unbelievable prices for a limited time. EasyTurf will also offer discounts on installation services. (restrictions may apply)
"Offering remnant pieces to the public gives customers access to our industry leading synthetic grass at a ridiculously low cost," said EasyTurf President David Hartman. "This Parking Lot Sale provides 'do-it-yourself' homeowners with direct access to our landscape products."
The Parking Lot sale will take place at EasyTurf's L.A. Warehouse at 9837 S. Pioneer Boulevard Santa Fe Springs, California. Customers can see and feel the product and consult with the EasyTurf sales staff in a friendly environment.
Doors are to open at 9 a.m. and close at 4 p.m. daily during the event.
For more information on the remnant sale visit http://www.easyturf.com/.
About EasyTurf:
In May 2010 EasyTurf, Inc., a long-time distributor of FieldTurf line of landscaping products and a recognized leader in the artificial grass industry, became the national brand of FieldTurf landscape, pets, playground, and golf artificial grass products. The partnership allowed FieldTurf to rapidly expand its existing dealer network and accelerate sales and distribution of FieldTurf landscape products on a national level to homeowners, municipalities, schools, businesses and the military.
EasyTurf is North America's preeminent source for landscaping, offering state-of-the-art synthetic lawns for realistic, beautiful, easy-care residential and commercial landscapes, providing specialty synthetic grasses engineered specifically for military surfaces, commercial and residential athletic and playground surfaces, putting greens, and for pet-friendly landscapes. EasyTurf product advancements in the synthetic grass industry have led to massive growth for the Vista, California-based leader in life-like artificial lawns that stay beautiful year round.
FieldTurf has long been the world leader in synthetic sports field cover; now EasyTurf joins them as the industry leader in residential and commercial synthetic turf markets.
Contact:
Jackie Luper, VP of Marketing
Phone: (760) 745-7026
Fax: (760) 888-2011