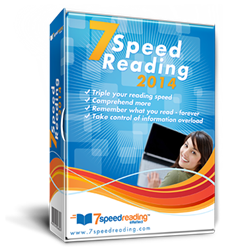 People can benefit from speed reading because learning the techniques involved provide a pivotal benefit.
New York City, NY (PRWEB) June 04, 2014
7 Speed Reading™ software not only helps people learn to speed read, it gives them the underlying techniques they need to increase overall knowledge and other capabilities. An Eton Digital review of eReflect's software reveals that the program meets all efficiency criteria to be the first choice for anyone wanting to improve their reading speed. In addition, the reviewer reports that not only does the software help people read fast and efficiently, it can also improve comprehension no matter the speed at which a person reads.
Proof of the software's efficiency is easy to find. Numerous other 7 Speed Reading™ reviews done by authoritative review sites like Software Review Boffin, Hack my Study, and Top Ten Reviews attest to the ongoing value of this system. According to Olivia Collins of Eton Digital, 7 Speed Reading™ meets all seven efficiency criteria set for a speed reading program. It provides customer support, has essential and complex features, offers a comprehensive range of learning exercises and lessons, and caters to different learning styles so that everyone can find resources and activities that suit their learning needs. Progress tracking and user-friendliness are two other features of 7 Speed Reading™ that make it stand out from its competition, note the reviewer.
The review of the 7 Speed Reading™ software by Hack My Study is also mentioned in this most recent review, further confirming the software's supremacy in the speed reading software category and its high ratings from many reviewers and self-improvement experts.
The software review at Eton Digital also focuses on the significance of speed reading for people of all ages, professions, and interests. People can benefit from speed reading because learning the techniques involved provide a pivotal benefit: simply learning to speed read also radically increases the user's knowledge on a range of issues, which leads to a greater potential of success both on a personal and a professional level.
eReflect thanks Eton Digital and Olivia Collins for their thorough review of the 7 Speed Reading™ software, and promises to continue improving the software's features and resources while holding to the high-quality standards it has set with its previous version of 7 Speed Reading™.
For more information about the benefits of using 7 Speed Reading, please visit the official website at http://www.7speedreading.com.
About 7 Speed Reading™
7 Speed Reading is the only modern speed reading software that uses the latest technology to produce superior results.
The software provides its users with a new way to master speed reading that guarantees three times the reading speed along with improved memory and comprehension.
The software is poised as the most comprehensive speed reading system anywhere. It contains seven learning strategies, fifteen software activities, video training, advanced tracking capabilities and many more exciting features.