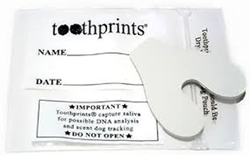 Just as with fingerprints, every individual has a unique dental signature, even in the case of identical twins.
Winter Park, Florida (PRWEB) June 03, 2014
Winter Park Family Dentistry and Prosthodontics, PA, a leading Orlando dental practice, is hosting a community service project on the use of Toothprints® Thermoplastic Bite Impressions to enhance child security. Free Toothprints® will be provided to those children attending, as part of an annual back to school event.
The seminar will take place August 2, 2014 at 731 West Morse Boulevard in Winter Park, from 9:00 a.m. until 3:00 p.m.
Toothprints® are thermoplastic wafers used to record a child's individual tooth characteristics, tooth position within the dental arch, upper and lower teeth relationships, gum contours and anatomy, missing tooth structure, mamelons, missing or unerupted teeth as well as critical DNA and scent-tracing capabilities. They serve as a comprehensive recovery, identification, forensic and prosecution tool that could be used in case of an emergency.
A free Toothprint® will be made for any child of grade school age accompanied by a parent or guardian, and given to that child's parent or guardian to store safely at home and "hopefully never used," says Dr. Ramzi Matar.
The procedure involves a softened thermoplastic wafer which the child is instructed to bite firmly down on—thus recording the size and shape of teeth along with their relation to others in the mouth. Just as with fingerprints, every individual has a unique dental signature, even in the case of identical twins.
Some children in Central Florida have no dental records due to financial, socioeconomic or healthcare access reasons. For many of these children Toothprints could be the only dental record available to identification teams.
"We hope area dental professionals, parents and also the media will be interested in attending and learning about this innovative resource for child security," says Dr. Matar.
"Toothprints® is so simple and effective I feel every child should have a Toothprint® done at least once during childhood. It could make all the difference in any type of identity investigation. This annual public service outreach provides us an opportunity to give something worthwhile back to the community," he adds.
Winter Park Family Dentistry and Prosthodontics is a group dental practice that been providing family dentistry and prosthodontic specialty care to central Florida for 37 years. Its staff includes Board certified prosthodontist Jon S. Wilkins, DDS, MSD, Malcolm Hawley DDS and Ramzi Matar, DMD.
For more information about this outreach text 407-473-1118, email wpkdental(at)gmail(dot)com or call 407-644-0177. Or visit their website at http://www.winterparkfamilydental.com.