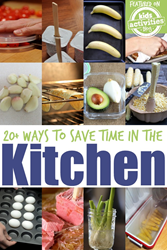 Carry a pizza cutter in the diaper bag.
Dallas, Texas (PRWEB) July 09, 2014
Ready to save time and energy in the kitchen? Time saving kitchen tips and textured coloring have been published on Kids Activities Blog. Get ready to save time at home today.
Making dinner for the family can be challenging even on the best days. Ways to save time and Mom's energy include putting a pizza cutter into the diaper bag. Toddlers need anything cut into smaller pieces and a pizza cutter makes cutting food easier.
No need to buy boxed potatoes. Microwave potatoes instead of boiling them will have them ready to mash in about 8 minutes. Another great tip is to preheat the cookie sheet for any starchy food that requires flipping in the oven. This avoids the messy flipping of french fries, for example, half way through baking.
No more boiling eggs in water. Try baking eggs in muffin pans for about 30 minutes in 325-350 degrees. The eggs will come out perfect and it is mess free.
The best way to keep a half cut avocado fresh is by putting a half cut onion inside the airtight plastic container. Put it in the fridge for days and the avocado will stay green. This idea works also with leftover guacamole.
Elevate a simple coloring sheet to a whole new level. Begin by selecting a cool coloring sheet. Kids Activities Blog has a variety of coloring sheets available to download. Then choose a set of crayons or colored pencils and a variety of textures to place underneath the paper.
Texture ideas are burlap, a sifter, the wall, a basket, bacon grease shield, fondant plastic textured mats, leaves, woven placemats, the edge of a plastic plate, tile samples, and sandpaper.
Let the kids use their imagination as they wander around the house to look for and use textures. Kids love to experiment with the textures they find.
The textured coloring activity is fun for kids of all age levels. It adds new life to coloring books and printable coloring sheets.
For detailed instructions and to get additional ideas, check out Kids Activities Blog this week. Come get inspired to have a blast this summer.
About Kids Activities Blog
Kids Activities Blog is a website created by two moms (who collectively have 9 children), Holly Homer and Rachel Miller. Their new book was published this spring by Page Street, 101 Kids Activities That Are the Bestest, Funnest Ever! Kids Activities Blog is an interactive website that publishes fun things to do with kids twice a day. It is an amazing resource for moms, dads, grandparents, caregivers and teachers to find kid-friendly activities that create memories and sneak learning into the fun.