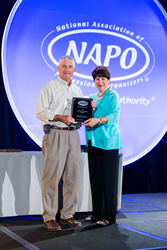 Both of these incredible organizations . . . demonstrate how attention to detail and efficient systems enable them to accomplish amazing things for the people they serve.
Mount Laurel, NJ (PRWEB) June 03, 2014
In keeping with the theme of its NAPO2014 Annual Conference & Organizing Expo, "Shine Ever Brighter," the National Association of Professional Organizers (NAPO) honored Make-A-Wish and Stardust Non-Profit Building Supplies (Stardust) as the exceptional recipients of its 2014 Organizing Excellence Awards. The annual awards, which recognize local and national organizations that use outstanding organizational systems to achieve their missions, were presented in front of hundreds of professional organizers and productivity specialists during a luncheon ceremony on May 31st at NAPO2014 in Scottsdale, AZ.
Each year, Make-A-Wish grants 14,000 wishes to children with life-threatening medical conditions. Wishes can range from the simple to the extravagant, with more than 70 percent involving domestic or international travel. In order to create magical, worry-free experiences for the children and their families, thorough planning and organization is vital, and must take into account medical equipment needs, dietary restrictions, and other considerations. In addition to wish-granting efforts, Make-A-Wish staff nationwide work every day to help fund wishes through hundreds of walks, galas, and other events.
"A wish-come-true is an incredible experience, made ever-so-special by paying careful and close attention to the minute details handled on each and every wish," said David Williams, president and CEO of Make-A-Wish America. "The organizational expertise of our staff and volunteers are integral to creating life-changing moments in the lives of children with life-threatening medical conditions."
Stardust works diligently to keep usable building materials out of local landfills by providing them to non-profit agencies and low-income homeowners with remodeling needs. Operating three retail warehouse stores that sell salvaged materials from their Deconstruction program, along with new building supplies donated by manufacturers, distributors, contractors and individuals, Stardust offers the materials to the community at 50 – 80% less than typical retail prices. Stardust uses the net revenues from its stores to support its assistance programs, which include Deconstruction, Angels On Call, Gifts In Kind and Computers For Kids. Receiving donations, managing inventory, distributing the proceeds, and overseeing their many programs requires a great deal of volunteer organization in order to operate, which Stardust does skillfully.
"Staff in every area of Stardust utilizes organizational skills and techniques such as sorting, classifying, grading and categorizing to maximize reuse and repurposing of our donated materials," said Karen Jayne, Executive Director of Stardust Non-profit Building Supplies. "Given the volume and variety of the materials we receive strong organization is the key to our success. We are honored to receive the NAPO 2014 Organizing Excellence Award."
"Both of these incredible organizations manage a steady flow of donations and face constant logistical challenges to fulfill their respective missions. These monumental tasks require extraordinary organization and coordination, and they demonstrate how attention to detail and efficient systems enable them to accomplish amazing things for the people they serve," noted NAPO Awards Committee Chair Ellen Palestine, Certified Professional Organizer®. "We are honored to recognize Make-A-Wish and Stardust Non-Profit Building Supplies with 2014 Organizing Excellence Awards for their organizational skill and their life-changing community service."
For a list of prior recipients and 2015 Organizing Excellence Award eligibility criteria, please visit http://www.napo.net/who/awards/org_excellence.aspx.