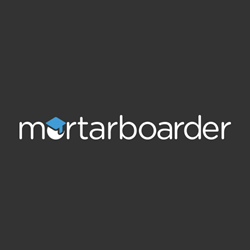 Mortarboarder is the pathway to college that so many students need to move their futures forward.
New York, NY (PRWEB) June 03, 2014
New technology startup Mortarboarder (http://www.mortarboarder.com) debuted today with the goal of launching a generation of debt-free college graduates into the work force through the power of crowd funding. With Mortarboarder, students can create a registry of exactly what they need for their college education and are matched with donors who can give towards their requests. With the average debt for a college graduate at $30,000 and the average starting salary for a college graduate at $45,000, Mortarboarder wants to provide a solution to the problem of college debt and a way to directly invest in the economy of the future – theirs and ours.
Founded by Praveen Srikanth and Justin Alcon, Mortarboarder was born out of a shared passion for creating access to education for everyone and anyone who wants it. "Mortarboarder is the pathway to college that so many students need to move their futures forward. By seeking and accepting donations, students on Mortarboarder have the opportunity to succeed without the burden of crippling student loans," says CEO Praveen Srikanth.
With over $1 trillion of student debt in the US and college fees getting more and more expensive, it has becoming increasing difficult for students to get a college education without accruing debt that will potentially follow them for years to come. Recognizing that currently over 70% of students are graduating from college saddled with student loans, Mortarboarder uses the proven technology of crowd funding to achieve the objective of reducing that burden. "We live in a world where technology is disrupting, and solving, a huge number of social issues. For us, student debt is a paramount issue we desperately need to address in order to secure the financial future of the next generation," says CTO Justin Alcon.
Whether a student needs help with buying course materials or covering tuition costs, Mortarboarder hopes to be an invaluable resource for students and parents as they navigate through the challenges of affording a college education.
About Mortarboarder
Based in New York City, Mortarboarder is a leading technology company whose mission is to launch a generation of college graduates into the workforce without the burden of debt. Founded by Praveen Srikanth and Justin Alcon, proven leaders in the financial and technology sectors respectively, Mortarboarder uses crowd funding principles and technology to provide college students what they need to further their education. Mortarboarder has created a sustainable support system for students and donors to help create a better tomorrow for all of us. For more information about Mortarboarder, visit http://www.mortarboarder.com or connect with us on Facebook and Twitter @Mortarboarder.