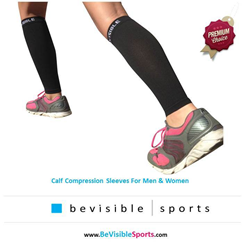 They were exactly what I was looking for and fit great. It's my first time using compression sleeves and I couldn't be happier.
Melbourne, Victoria (PRWEB) June 03, 2014
"They were exactly what I was looking for and fit great. It's my first time using compression sleeves and I couldn't be happier. They relieve the fatigue in my legs after my workouts and runs, even help with the shin splints," says Lea Hoppe, an Amazon.com customer in her feedback on the BeVisible Sports compression sleeves.
Another satisfied customer D. Haskett says, "I bought these for my daughter who was having terrible calf pain after running track (100 and 200 meter) at practice and meets. The very first time she wore them the pain stopped and has not been back yet. These things are great!!"
It is comments and feedback like these that have helped propel the BeVisible Sports calf compression sleeves to the #1 Best Seller Ranking in both the men and women's running tights categories on Amazon.com
Compression sleeves are increasingly being used by professional and everyday people to help provide support to their muscles, boost circulation and aid them during recovery after working out, playing a game or running. Even people who are on their feet a lot during the day or who travel long distances have reported experiencing less aches and pains in their legs after wearing calf compression sleeves.
The BeVisible Sports sleeves are made of a moisture wicking material. Their light weight, classic weave best supports calf and shins. The sleeves can be used for a variety of sports and fitness activities.
Many customers now consider these a must have for running, cycling, basketball, baseball, volleyball, martial arts, cross fit, training and work outs or any fitness activities. They are perfect for low or high impact exercises enabling you to warm up safely & recover quickly.
Whilst there are a number of different calf compression sleeves in the market, company spokesperson Sandy B says that what makes the BeVisible Calf sleeves different is "the design of the calf sleeves with true graduated compression and the world class customer service that we offer our customers."
"We also follow up with our customers post their purchase to ensure that everything is in order and to offer additional tips on how the calf sleeves can be used," says Sandy B.
Currently, the product retails for $21.97 per pair of calf sleeves on Amazon, but to celebrate its success, the company is now offering two pairs of calf sleeves for $39.
To avail of this offer, customers need go to the BeVisible Sports Calf Compression Sleeve listing on Amazon here and add two pairs of calf sleeves to their cart in Amazon and enter the coupon code 2for39CA during check out to get the 60% off deal. Additionally, this will also qualify customers to get free shipping of the sleeves. This offer can be used in conjunction with any other purchase.
Many other manufacturers currently provide just one pair of calf compression sleeves for this price.
Says spokesperson Sandy B, "We found that a number of our customers wish to purchase two pairs of the calf sleeves – one to wear during training and the other pair during recovery. So we thought that it would be great to offer this deal to our customers."
Customers who are interested in availing themselves of these sleeves should do so as soon as possible as this is a limited time offering and it is expected that the prices will go back to normal after the initial sale period.
About BeVisible Sports
BeVisible Sports provides performance sportswear for active people.
The company's mission is to help everyone who is into health and fitness achieve their best results by providing high quality, well designed, durable sportswear that inspires, protects and enhances performance.
BeVisible Sports products helps athletes train harder and recover faster, stand out and be outstanding.