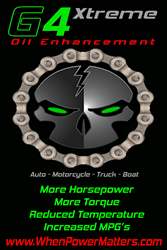 "I tested G4X an now the Special Sauce goes in my engines." - Tyler Crockett - 2011 OPA World Champion
Chicago, IL (PRWEB) June 03, 2014
Green4All Energy Solutions is set to debut G4Xtreme, its newest hi-tech oil and lubricant additive that promises significant engine benefits for everyone from professional race drivers, to commercial truck fleets, to recreational "weekend warriors." G4Xtreme has undergone extensive track testing and the results have been impressive, with the supplement demonstrating a proven ability to boost horsepower, while saving on fuel and enhancing engine endurance.
"I think G4Xtreme is unique because it has something for everyone – professional drivers, recreational and commercial," said Green4All Energy Solutions President & CEO Dan Handley. "The performance boost is something pros need and enthusiasts want to have. The cost benefit everyone appreciates, but is crucial for businesses that have a bottom line to defend." Mr. Handley added, "That businesses using G4Xtreme can accurately market themselves as "green" is just a bonus feature for a lot of companies and opens up for them new customer opportunities."
The meticulously documented science behind the results is generating buzz. Professional race circuit drivers and their teams respond to the increased horsepower, first and foremost. G4Xtreme boosts the fail point of conventional and synthetic oils by up to 500%, which allows engines to recapture horsepower lost to friction. That is the same property that has business owners and corporate fleet managers excited: reduced friction means less metal wear and greater fuel economy, a double-treat that leads to big savings in fuel and maintenance costs.
Reducing fuel use also reduces emissions and G4Xtreme is a new – and the most cost effective – way for companies to market themselves as "green" to choosy customers. For businesses bidding on local and federal government contracts, touting environment-friendly credentials can provide a huge boost over the competition, and in many cases is mandatory for eligibility.
Motor and outdoor sports enthusiasts are just as excited about G4Xtreme and are eager to enjoy the same benefits as the professionals. Greater performance along with lower fuel and maintenance costs opens new opportunities to recreational users for fun, without breaking the bank to upgrade equipment.
G4Xtreme is precisely blended to meet engine manufacturer specifications and use of the product does not void engine warranty or standard service agreements. Mr. Handley is excited about developing markets for G4Xtreme: "As word gets out and the track results become public, we are seeing more and more orders of all sizes, from individual bottles for motorbike and ATV riders, to bulk wholesale purchases for corporate truck fleets.
Green4All Energy Solutions has already announced plans to increase production to meet anticipated heavy demand and new web store is processing orders now.
About Green4All Energy Solutions
Green4All Energy Solutions manufacturers and distributes a select line of conservation and efficiency products that are made in the USA. Company products are deployed in the Water, Electricity, HVAC and Transportation industries. Green4All products are used extensively by Fortune 500 companies, including Tyson Food, Harmon Oil, Marriott Hotels, Pepsi Bottling, Sofitel Hotels, Thompson Hotels, Duke Energy, Cargill Industries and many others.
Visit: http://www.WhenPowerMatters.com or Email: Info(at)G4Xtreme(dot)net.