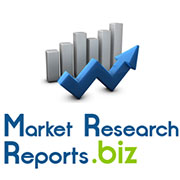 Global And China Dissolving Pulp Industry Report, 2013-2016
(PRWEB) June 02, 2014
Dissolving pulp refers to the pulp with cellulose content above 90%, mainly including wood pulp, bamboo pulp and cotton pulp (dissolving pulp in this report just involve wood and bamboo pulps), and finding application mainly in viscose fiber downstream.
Browse full report with TOC: http://www.marketresearchreports.biz/analysis-details/global-and-china-dissolving-pulp-industry-report-2013-2016.
In 2013, global dissolving pulp capacity approximated 6.3 million tons which were mainly produced in such countries where forest resources are abundant as North America, South Africa and Brazil. As the dissolving pulp industry is fairly profitable during 2009-2011 when a great number of dissolving pulp projects were built in China, the dissolving pulp capacity of China rose to about one million tons till 2013, holding the second place in the world.
Although with a rather large dissolving pulp capacity, China is in short of forest resources and Chinese dissolving pulp manufacturers has a higher production cost than international counterparts. In 2012-2013, China's viscose fiber industry remained in the doldrums, hence a lower demand for dissolving pulp. This, coupled with the impact of the global low-priced dissolving pulp on the domestic market, led to a universally low operating rate for dissolving pulp devices, thus resulting in the overall loss-making of the industry. In 2013, the output of dissolving pulp in China was only around 360kt, with a mere 36% operating rate but export dependency ratio as much as 83.4%.
To Download Full Report With TOC: http://www.marketresearchreports.biz/sample/sample/206530
In April 2014, Ministry of Commerce People's Republic of China announced final determination in anti-dumping investigation: starting from April 6, 2014, China would levy tariffs of 17%, 13% and 6.8% on the pulp produced in the United States, Canada, and Brazil, respectively. The implementation period would span 5 years since April 6, 2014. This is good for the sales of dissolving pulp in China and would hinder the impact of the imported dissolving pulp. Although the factors including destocking in distribution and weak demand from downstream market led to the fluctuation of the prices of dissolving pulp in the bottom, the dissolving pulp industry in China is expected to witness a turning point in 2014.
The world's dissolving pulp industry features quite high concentration and key industrial players consist of Sappi, Aditya Birla, Lenzing, Sateri, Rayonier, etc. In 2013, the total dissolving pulp capacity of the aforesaid five producers accounted for roughly 54.5% of global total. In the forthcoming years, the world's dissolving pulp capacity will continue to grow and the key increments will involve the successively expanded capacity of 300kt from Lenzing, the capacity of 190kt switched for production by Rayonier, the newly built capacity of 175kt from Thailand's Double A, and otherwise.
Inquire Before Buying Report: http://www.marketresearchreports.biz/analysis/206530
Chinese dissolving pulp manufacturers are mainly medium and large paper-making enterprises and chemical fiber enterprises wherein the paper-making enterprises is chiefly composed of Yueyang Forest & Paper, Sun Paper and Zhenlai Xinsheng Paper (putting into production in 2013), mainly producing wood dissolving pulp and with their capacities hitting 300 kt/a, 200 kt/a and 100 kt/a respectively, and chemical fiber enterprises include Jilin Chemical Fiber Group and Yibin Grace Group Company, producing bamboo dissolving pulp in the main, of which the 95 kt/a bamboo pulp project of Jilin Chemical Fiber Group is still under construction and expected to put into production in 2014.
As a large consumer of viscose fiber around the globe, China's output of viscose fiber is anticipated to keep a growth rate of 10% or so in the upcoming years, which beyond doubt stimulate a rise in the demand for dissolving pulp. After anti-dumping tariff is levied by China on the imported dissolving pulp in 2014, the output of home-made dissolving pulp in China is expected to grow steadily, and it will get to around one million tons in 2016.
Latest Reports:
Graphene Markets: 2014-2024-Market Growth, Trends, Technologies And Opportunities
Browse full report with TOC: http://www.marketresearchreports.biz/analysis-details/graphene-markets-technologies-and-opportunities-2014-2024.
Graphene markets will grow from around $20 million in 2014 to more than $390 million in 2024 at the material level. The market will be split across many application sectors, each attracting a different type of graphene manufactured using different means. The market today remains dominated by research interest but the composition will change as other sectors such as energy storage and composites grow. The value chain will also transform as companies will move up the chain to offer intermediary products, capturing more value and cutting the time to market and uncertainty for end users.
Interest in graphene remains strong. Companies on the market multiply every year and academic investment continues to pour in. For example, the European Union has committed 1 billion Euros over a decade to research on graphene and other 2D materials, while the Korean and UK governments have each, respectively, committed at least $40 and £24 million in the past two years. At the same time, several graphene companies have floated on the public markets, fetching large valuations and therefore demonstrating the continued appetite for investment in graphene. IDTechEx counts approximately $60 million of investment in private graphene companies over the years.
To Download Full Report With TOC: http://www.marketresearchreports.biz/sample/sample/198325
Graphene is still in search of its killer application that delivers a unique value proposition or a first mover advantage. In the absence of such applications, the commercialisation process remains a substitution game. This is not meritless as graphene can target a broad spectrum of applications including energy storage, composites, functional inks, electronics, etc. The value proposition of graphene, the competitive landscape, the technical requirements, and the likely graphene manufacturing techniques will be different for each sector, resulting in market fragmentation. Therefore, the graphene market will in fact grow to consist of multiple subsets.
Functional inks are technologically the lowest hanging fruit for graphene suppliers. These inks offer low temperature processing, compatibility with several printing processes, and also ruggedness. They however occupy an awkward position in the conductivity ladder. They sit many orders of magnitude below metallic inks and pastes (silver and copper) but just above carbon paste. They must therefore identify sectors where metallic inks/pastes grossly overshoot the market requirements or sectors where carbon pastes just undershoot. The main target applications are RFID and smart packaging. These markets are characterised by low material consumption per unit therefore high volume adoption is needed to generate profitable operations. A potential differentiation from carbon paste can come in the form of transparency, which is fast being developed.
Global And China Viscose Fiber Industry Report, 2013-2016
Browse full report with TOC: http://www.marketresearchreports.biz/analysis-details/global-and-china-viscose-fiber-industry-report-2013-2016.
In recent years, the United States, Europe and Japan have successively withdrawn from the viscose fiber industry due to labor costs, environmental protection and other factors, while the Asia-Pacific Development Zone, including China, has entered a period of accelerated development of viscose fiber, with capacity and production increasing considerably. In 2013, the global viscose fiber output exceeded 4.9 million tons, up more than 13 % year on year, wherein, China contributed over 65%.
The Austria-based Lenzing Group and the India-based Aditya Birla Group as two viscose fiber giants worldwide gained capacity of above 800,000 tons/a each in 2013. But beyond that, Chinese counterparts also obtained greater capacity.
Viscose fiber includes viscose filament yarn (VFY) and viscose staple fiber (VSF), especially VSF capacity/output accounts for about 90% in China. In 2013, China's VSF capacity approximated 3.45 million tons, 51.8% of which came from the top five enterprises, namely Fulida Group, Sanyou Chemical, Aoyang Technology, CHTC HELON and Shandong Yamei, showing a high industry concentration.
In 2011-2013, the sluggish textile industry pulled down China's overall prices of viscose fiber, resulting in a market downturn. However, based on promising prospects and corporate development needs, Sanyou Chemical, Sateri and Xinxiang Chemical Fiber are still planning to expand capacity with a focus on differentiated high-end products.
To Download Full Report With TOC: http://www.marketresearchreports.biz/sample/sample/196335
Being one of the Chinese VSF companies holding the highest product differentiation rate, Sanyou Chemical can reach above 80%. Following the operation of the 160,000 tons/a differentiated VSF project and the transformation of some production lines, the company, with overall VSF capacity of 480,000 tons/a as of end-2013, has became one of the largest VSF manufacturers in China. Furthermore, the company also plans to release incremental capacity of 50,000 tons through technological reform in 2014.
Sateri had only reached 210,000 tons/a viscose fiber by the end of 2013, but as China's largest dissolving wood pulp (DWP, the main raw material for viscose fiber) supplier, it enjoys around 40% market share with obvious cost advantages. Meanwhile, Sateri is accelerating the downstream viscose fiber capacity expansion, and its Fujian plant will obtain additional differentiated viscose fiber capacity of 150,000 tons/a in 2014 (wherein, 50,000 tons/a was realized in January and March 2014 each, and the remaining 50,000 tons/a will be put into operation in the third quarter).
About Us
Marketresearchreports.biz is the most comprehensive collection of market research reports. Marketresearchreports.biz services are especially designed to save time and money of our clients. We are a one-stop solution for all your research needs; our main offerings are syndicated research reports, custom research, subscription access and consulting services. We serve all sizes and types of companies spanning across various industries. Kindly visit http://www.marketresearchreports.biz/.
Contact us:
Office: United States
State Tower
90 State Street, Suite 700
Albany, NY 12207
United States
Toll Free: 866-997-4948
Tel: +1-518-618-1030
E: sales(at)marketresearchreports(dot)biz