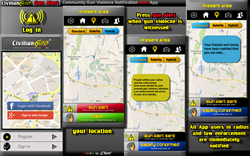 In life threatening situations, 20 seconds can change 20 years
Hartford, CT (PRWEB) June 03, 2014
At some point, we have all heard one of those horrifying stories of gun violence. Many people may have even asked, if there was anything that could have been done to prevent these incidents from occurring? Many people may have asked, if there was something that could have been done to have prevented the loss of a friend or a family member that was a victim of community gun violence? These are questions that may have went through many peoples minds at one time or another, as the likelihood of every individual on the face of the planet losing someone to a community gun violence scenario is a reality and an undeniable truth!
What if there was an application that was able to forewarn civilians and law enforcement of an incoming gun violence threat, within their present radius? What if the application was based on people looking out for people and watching out for one another before these scenarios took place? Well, O'Rane M. Cornish Jr., the owner of a Connecticut based weapons safety technology company called "Civilian Guns" has developed an application that does this and it is conveniently called "Gun Alert" a Community Gun Violence Notification Alert App. Due to the security required and serious nature of the application Mr. Cornish has turned to Indiegogo to fund the final development, release, global promotion and distribution of the application..
"The next big question.....HOW DOES IT WORK?"
Users of the app can sign up and invite their friends and family members. Once sign up is complete, users are connected to others who are within a half mile radius to each other.
A good example of how the application works and the usefulness of its primary function would be a school in session, where if a teacher were to witness an armed individual outside and approaching the facility she or he could select the app and press the "gun alert" button which would then immediately alert every user within the school system radius of the gun threat by sending the "Gun Alert" signal to their cell phones. The app would also immediately notify law enforcement within the area. The "Gun Alert" App is aimed at proving to the world that in life threatening situations 20 seconds can change 20 years.
https://www.indiegogo.com/projects/gun-alert-is-a-community-gun-violence-notification-alert-app/x/7265649