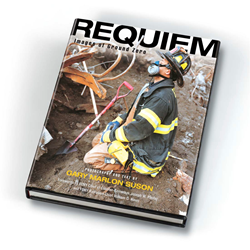 9/11 Posters & Books Are Now Available via Online Gift Shop for Those Unable to Travel to NYC. Proceeds to be Shared with Charities
New York, New York (PRWEB) June 03, 2014
The Ground Zero Museum Workshop in New York City has launched its online gift shop, with the focus solely on tasteful images by the Official Photographer at Ground Zero, Gary Suson. The book, "Requiem: Images of Ground Zero" - as well as stunning posters, mini-prints and select T-Shirts ($32) depicting life at Ground Zero during the 9-month cleanup efforts will be the main focus of the online museum gift shop. Museum spokesperson Carole Barnes states, "Items can be shipped anywhere in the world and we are excited to be able to bring stunning, 9/11 photography remembrance items to people who, for whatever reason, are unable to make it to our beautiful Museum here in New York City. These important and historical image items educate folks about what it was like to be with the FDNY, NYPD and PAPD on the front lines for nine long months after the September 11 attacks." The "Last WTC Beam" image will be for sale as will an image never before available: The "WTC Bible Page."
"What is so unique about the online purchases is that Gary Suson, The Official Photographer at Ground Zero will be autographing the images, making them even more collectible and valuable," says Carole Barnes. "He is very supportive of 9/11 charities. Furthermore, in a small number of select books and posters, Mr. Suson, an FDNY Honorary Battalion Chief - will be scribbling detailed 'behind the scenes' notes on some of the images, making them true collector's items. About 1 in 10 books/posters will have the notes."
Online shoppers will be happy to know that with every purchase, a portion of the sale will benefit charities. The two charities so far that have been chosen are the FDNY Foundation for the Children of Fallen Firefighters as well as the FDNY Ralph Geidel Cancer Fund. In the future, more will be added. The images being offered were called "Rare Photos" by the New York Times and are tasteful in nature with no horrific images being offered from the morning of 9/11. The photographic collection was also dubbed "Compelling" by the New York Post and "Intimate Images" by the Associated Press.
Featured in the image collection being offered online are the famed "Genesis 11: Bible Page" which was featured on CNN, the "Frozen Clock" featured on FOX NEWS - The Muddy Teddy Bear - Rare Honor Guard Images and the K-9 Recovery Dogs - which will be offered in both poster and T-Shirt form. "Due to large demand, items may sell out faster than expected but a waiting/back-order list will be well organized. Product inquiries may be emailed to to us at groundzeroticket(at)aol(dot)com," says Ms. Barnes.
States Ms. Barnes, "This particular collection of moving Ground Zero images being offered has received accolades from and featured on such respected news programs as CNN, FOX NEWS CHANNEL and the BBC, just to name a few. It is known for its sensitivity in depicting life at Ground Zero in the wake of the September 11 attacks. We believe the public will embrace these special images." Some of the posters will be offered in Spanish and French in the coming months. "I think it's important for the public to know that when they make a purchase they are also helping a charity. It always feels good to give back and support worthwhile causes."
The image collection focuses on the work of Gary Suson, the Official Photographer at Ground Zero for the Uniformed Firefighter's Association. Suson was the only all-access photographer in the world at Ground Zero able to penetrate the most secure areas, such as the PATH subway tunnels, the Cortlandt Street subway tunnels and the Secret Service parking areas which housed melted government cars from the extreme heat after the 9/11 attacks. "What sets this collection apart from others is Mr. Suson's rare access," states Carole Barnes. The book, "Requiem: Images of Ground Zero" (Barnes & Noble Publishing, $49) depicts life at Ground Zero like no other book and will give readers an insightful look at what it was like 'to be there' on the front lines with FDNY firefighters, NYPD officers, Port Authority police, Volunteers, EMS, Rescue Dogs, Chaplains, Iron Workers and Construction workers. The book, endorsed on the back by numerous 9/11 families, has already raised $13,000 for cancer victim Ralph Geidel, whose brother, firefighter Gary Geidel of FDNY Rescue-1 was killed at the World Trade Center on 9/11. Ralph spent nine months digging for his missing brother, only to be diagnosed with throat cancer shortly after the Recovery ended in May, 2002. Gary Marlon Suson's book supports Ralph's unpaid cancer bills.
Says Barnes, "We feel that in terms of remembrance items for such a tragedy as 9/11, it's best to stick with basic items, the core being photography. There is no better way to memorialize an event and the lives lost than through tasteful imagery." Fifteen percent (15%) of every online sale will go to 9/11-related charities. The limited edition books and posters with Gary Suson's autograph and personalized notes will ONLY be available online. Any images from the "Recovery Collection" not in poster format ($35) may also be custom ordered in 13x19 inch size on museum archival paper for a flat rate of $175.00, which includes being signed by the Official Photographer. These special, high-quality images will take one month to fulfill and also support the charities.
Ground Zero Museum Workshop - ranked on Trip Advisor's "Top 25 Museums in the USA" list for 2013 - operates daily 2-hour tours of Images & Artifacts. (Guests may pick up and hold WTC artifacts). Audio tours in Spanish, Italian, French & English. For tickets call ZERVE at 212-209-3370. TWITTER '911Museum' : Instagram and Facebook: Ground Zero Museum Workshop