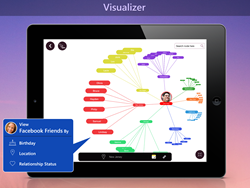 "Brilliant. This app is the best I have ever used. I have just cleared my head into a visual map." - Mind Tree user from Australia
Waterford, CT (PRWEB) July 30, 2014
i2e Consulting has released Mind Tree, a mind mapping app, to build and visualize ideas and concepts.
Mind Tree by i2e Consulting is the ultimate solution for mapping 'thoughts and ideas'. From the developers of Project Planning Pro (Featured in Cult of Mac and runner-up of Best AppEver Award), this mind mapping tool has the potential to help thousands of prospective users to prioritize their tasks and hence improve productivity.
Use Mind Tree to streamline intricate thoughts and process them to intensify work efficiency and boost confidence to tackle challenging tasks with ease.
It further contributes towards enhancing the user's productivity coefficient significantly.
Loaded with an array of exciting features, namely:

Visualizer or Tree view
Cut, Copy, Paste nodes
Drag and Drop Nodes
Addition of notes, URL and images
Exporting maps as CSV, PDF or images
iCloud syncing
Facebook Friend map
Search node feature
3 line styles, 5 color themes, 12 node colors
Mind Tree is a must have for anyone who wishes to visualize data quickly and harness brain power to full potential. The key selling point of app is its user-friendly interface and the 'picture-perfect' representation of the some of the most intricate thoughts.
Create a Facebook friend map, educational maps, health charts, travel maps, business plans and much more with Mind Tree. Plan a dream wedding or craft the entire schedule of Commonwealth Games in just a few snaps of the finger with Mind Tree.
Use Facebook login in the app to import and visualize your FB friend's map. Create maps based on relationship status, location and birthdays.
With Mind Tree, now available in the App Store, users can readily create simple plans out of complex ideas and use it as an indispensable tool for a presentation or thought provoking brain sessions.
Supported languages:
*English, French, German, Italian, Chinese, Russian, Japanese, Dutch, Spanish, Portuguese
Device requirements:
*Compatible with iPhone and iPad

Requires OS 6.0 and above
Pricing and Availability:
Mind Tree is free to download and try with no restriction on features. The app offers in-app purchases to create unlimited maps and nodes for $9.99 only. Also create a Facebook friend's map for just $0.99.
The app is available worldwide in the App store in Business Category.
App Store Link:
https://itunes.apple.com/app/id866990529?mt=8&at=11l6nt&ct=prwb-pr-mt
About i2e Consulting:
i2e Consulting is a US-based company focused towards creating some of the best business solutions. Till date, the firm has created some of the top-notch, award-winning mobile applications in the project management domain. For further information about i2e's product portfolio, refer to i2econsulting.com.