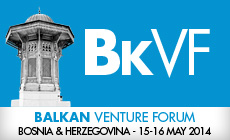 Brussels, Belgium (PRWEB UK) 2 June 2014
On May 15 & 16 the fifth edition of the Balkan Venture Forum took place in Bosnia and Herzegovina. Twenty-seven entrepreneurs showcased to an audience of international venture capital investors at the Termag Hotel in the Jahorina Mountains.
The presenting and exhibiting companies, selected by an international jury from over 70 applications, were selected based upon criteria such as: business potential, team experience, product & technology and competitive position.
The following seven best rated companies are the winners of the Balkan Venture Forum BiH 2014:
•Appssolut
•BalkanViator
•Collabobeat
•Kolikoo.com
•Lexicum
•Naymit
•Pathflow
Participating entrepreneurs included representatives from Albania, Bosnia and Herzegovina, Bulgaria, Croatia, Greece, Italy, Kosovo, Macedonia, Montenegro, Romania, Serbia and Slovenia. The expert jury made from investors and industry experts reviewed and rated every presenting company. The top 25% were awarded at the closing of the Balkan Venture Forum on Friday 16 May.
Besides the pitching sessions, several keynote speakers addressed the audience the first being Selma Prodanovic from Brainswork who spoke about 'Incubating the creative industry in the SEE' and Christian Thaler-Wolski from Wellington Partners Venture Capital who talked about 'The Top 10 Killer Questions VCs Ask - and Why They Ask Them'.
Each of the seven award winning companies will continue to participate in the European Venture Contest (EVC), Europe's largest contest for high-tech entrepreneurs seeking investment capital, which final event will take place in December. Additionally as award winners, they have won a pitching slot at the prestigious European Venture Summit(EVS) that takes place in the beginning of December in Dusseldorf. The Summit is a gathering point for some 120 award winning companies and 100+ venture capital investors. Check out the previous EVS on http://www.e-unlimited.com/EVS.
All companies which were not awarded and of course new promising startups will have the chance to win a pitching slot at the European Venture Summit at the next Balkan Venture Forum, to be held on 12 and 13 November in Ljubljana.
For more information contact:
Jitske van Os
Europe Unlimited
+32 (0)2 644 65 92
jitske(at)e-unlimited(dot)com
Balkan Venture Forum is one of the main objectives of the SEE Programme project VIBE (Venture Initiative in Balkan Europe) and is being co-financed by European Union. (http://www.vibeproject.eu/BkVF http://www.BalkanVentureForum.org http://www.e-unlimited.com/BkVF)