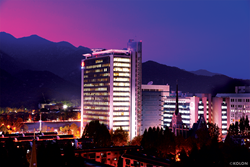 People don't realize how manufacturers' decisions to use Kolon materials can make a big difference.
Seoul, South Korea (PRWEB) June 02, 2014
You might not know it, but you've most likely come into contact with Kolon products several times in your life. Though most consumers are familiar with its fashion brands, Kolon also produces material for car seats, flower bouquet wrapping, artificial turf, and much, much more. Kolon is constantly innovating to create the best material solutions for a diverse array of applications that would probably surprise you. These products are often invisible parts of a greater whole, but therein lies their understated genius—Kolon's innovations have quietly been making the world a better place since 1954.
That's where the blog comes in. Kolon has just launched "Kolon Journey," a place to feature behind-the-scenes information about Kolon's wide range of products. The blog tells the story of Kolon and how its pursuit of quality is innovating industries around the world—and people's everyday lives.
"We come into contact with consumers every day, whether they are buckling a seatbelt made of Kolon's ultra-strong woven material or playing soccer with their children on our safe soccer field materials," says Sungmi Park, Vice President of Future Strategy Task Force Team at Kolon. "But people don't realize how manufacturers' decisions to use Kolon materials can make a big difference. We hope the blog will help them see that."
The blog is updated every Tuesday and Thursday with stories falling into the Life, Style or Innovation category. Each post features insights into Kolon's philosophy, process and activities, alongside vivid and inspiring images. Posts will range from break-downs of just how Kolon products work, to more light-hearted introductions to Kolon's various fashion brands. Industry journalists and consumers alike will find the blog a valuable resource, whether they are looking for the latest information on Kolon or the latest spring fashion trends.
Kolon (http://www.kolon.co.kr/english) is an award-winning company started in 1954 as a nylon textile maker, helping to revolutionize Korea's garment industry. Over the years, they have diversified into specialty chemical, construction, fashion and leisure. It has a presence in 11 different countries and continues to expand its reach in all parts of the world.
Follow Kolon Journey at http://www.kolonjourney.com