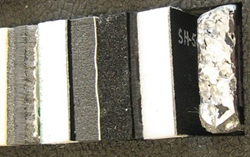 Elasto Proxy custom fabricates composites that use coated fabrics for acoustic and thermal insulation, noise or vibration dampening, and water resistance.
Boisbriand, Quebec, Canada (PRWEB) June 04, 2014
Elasto Proxy, global supplier of custom seals and specialty insulation, is announcing coated fabrics for acoustic and thermal insulation, noise or vibration dampening, and water resistance. Depending upon application requirements, coated fabrics can form the outer layers of a sandwich-like composite, or serve as internal layers.
Elasto Proxy treats coated fabrics with liquid rubber or plastic to impart specific properties such as sound dampening or water resistance. The company's solutions providers then use these coated materials to custom-fabricate sealing or insulation solutions for partners in a wide variety of industries.
Types of Coated Fabrics
Elasto Proxy is also announcing that many different types of coated fabrics are available. Choices include thermoplastic polyolefins such as polyethyelene (PE), elastomers such as ethylene propylene rubber (EPR), and nylon materials such as aramids. Nylon can be coated with urethane for increased toughness and abrasion resistance. Elasto Proxy's solutions providers can help with material selection.
For applications that require water resistance, coated fabrics with water-repellent properties are used to prevent the ingress of rainwater, and to protect specialty materials such as acoustic foams. By coating the right fabrics and building high-quality sandwich-like structures, Elasto Proxy protects product designs and strengthens global supply chains.
Thermal Insulation, Acoustic Insulation, and Vibration Dampening
Elasto Proxy can also recommend the right coated fabrics for use with thermal insulation, acoustic insulation, and/or vibration dampening. The company's technical services team can also help with the design of composite materials that have complex structures. Typically, these sandwich-like composites consist of foams, fillers or barrier materials, and adhesives.
With coated fabrics, the materials that are used in each layer help determine the composite's overall properties. Each layer also performs one or more functions. For example, insulation may include one or more layers of coated fabrics that provide sound-blocking and vibration-blocking properties.
For more information, contact Elasto Proxy or request a quote today.
About Elasto Proxy
Elasto Proxy designs and custom fabricates specialty seals, thermal and acoustic insulation, vibration dampening products and materials, EMI shielding, and other high-quality rubber and plastic parts. By listening to all of your requirements and analyzing all of your needs, Elasto Proxy's solutions providers can recommend sealing solutions that are right for your application. How can we help you?
Media Contact:
Megan Beaulieu
Executive Support
Elasto Proxy Inc.
4035 Lavoisier Street
Boisbriand, Quebec, Canada
J7H 1N1
mbeaulieu(at)elastoproxy(dot)com
For Immediate Release:
http://www.elastoproxy.com/
Ph: (450) 434-2744