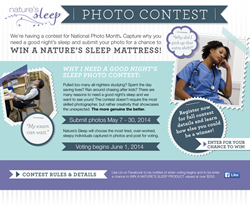 Due to overwhelming response to the Natures Sleep photo contest in honor of National Photo Month, the mattress company has decided to extend the entry deadline.
Davie, Florida (PRWEB) June 03, 2014
"We have been overwhelmed by the creative photos showing people tired from all sorts of reasons," said Alan Hirschhorn, Vice President of Marketing for Natures Sleep. "From people who can't put down a good book, to others up all night cramming for exams, to photos depicting someone out dancing the night away…you name it, we've seen it!"
Due to the great response and all of the creative entries being submitted, Natures Sleep is extending the entry deadline until June 15, 2014. While the contest entry deadline was originally slated as May 30, 2014, the final day of National Photo Month, Natures Sleep decided to let the entries pour in for a couple of extra weeks.
"This has been an enjoyable contest to run. We have really loved looking at all of the creative entries and are excited to see what else might come in," said Mr. Hirschhorn.
Natures Sleep wants to remind applicants that the photos do not need to be taken by a professional photographer. The more genuine the photo looks, the better.
Following the new deadline of June 15, 2014, the mattress company will choose their favorite photo entries depicting why someone is so tired — whether that exhaustion comes from too much work or from too much play. The chosen photos will then be posted on the Natures Sleep website and the public will be allowed to vote for the one they think should win up until June 28, 2014.
The winning photo of the sleepy individual will be chosen via website voting. The lucky winner will be the recipient of restful, sound sleep, as they will take home a brand new memory foam mattress from Natures Sleep.