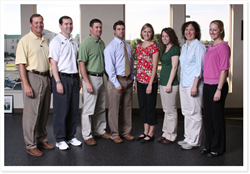 Bowling Green, KY (PRWEB) June 03, 2014
ProRehab's physical and occupational therapists treat a variety of conditions daily that range from neck and back pain to carpal tunnel syndrome and Achilles tendinitis, but the company's therapists are also capable of spotting a number of potentially risky symptoms simply by performing a routine consultation, including the following:
(1) Low Back Pain: A routine physical therapy exam can detect whether or not you are at risk for suffering an injury and developing low back pain.
(2) Total Joint Replacement: A routine physical therapy exam can identify the early risk factors for developing joint arthritis, the primary cause for joint replacement.
(3) Hypertension: Cardiovascular screening can detect risk factors for hypertension, which allows your therapist to prescribe a safe exercise plan to help minimize your risk.
(4) Headaches: A routine physical therapy exam can identify risk factors that can lead to debilitating headaches.
(5) Rotator Cuff Tear: A routine physical therapy exam can determine your risk for developing shoulder pain leading to a tear in the rotator cuff.
(6) Injury From A Fall: A routine physical therapy exam can detect your risk for falling, and even prevent you from suffering a life threatening injury.
(7) ACL Injury: A routine physical therapy exam can detect your risk of suffering a devastating knee injury.
(8) Peripheral Neuropathy: Physical therapists can test the sensation in your feet to determine the potential for peripheral neuropathy, which can lead to physical abnormalities like clawtoe and bunions.
"It pays to take charge, especially where your health and well-being are concerned," said Pat Wempe, PT, DPT, SCS, CSCS, and owner of ProRehab. "At ProRehab, we work hard to get our patients better quickly and effectively when they're injured, but it's equally important that we work to ensure that any future injuries are avoided. We have the tools (FMS and Y balance testing) at our fingertips to objectively measure your likelihood of injury."
Those who visit ProRehab can expect to be seen by an expert therapist who will perform a complete consultation before determining a course of treatment. To find a location near you, or to book a free consultation with one of our experts in injury prevention, please visit the ProRehab website.
About ProRehab:
ProRehab is a private physical therapy practice with locations in Evansville, southwest Indiana and western Kentucky. Known for teaching and training physical therapists throughout the region, ProRehab physical therapists are proud that patients ask their doctors to send them to ProRehab for orthopedic care. They deliver hands-on physical and occupational therapy based on the newest research to achieve the best results for patients with bad backs, achy joints, wounded hands, and sports and work injuries. Along the way, the ProRehab family has fun and makes friends with their patients; patients are actually sad to leave after their treatment is over! Find ProRehab on Facebook, @ProRehab on Twitter, and FourSquare.
###