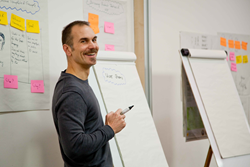 In one day he could explain the complex process of defining a product vision and translate that in a tactical way to a product strategy and finally to an operational level product teams can work with. It is exactly this process that is often hard to grasp.
London (PRWEB UK) 5 June 2014
Learn How to Create Products that Users Want with Roman Pichler's Agile Product Strategy and Agile Product Roadmap Training
For one day only, Roman Pichler, agile expert, author and instructor, will be teaching his Agile Product Strategy and Roadmap course in London, 11 July 2014 at 15Hatfields, 15 Hatfields London, SE1 8DJ United Kingdom.
Product managers, product owners, UX designers, BAs and project managers, learn how to create a powerful agile product strategy, develop the right business model, and build a compelling agile product roadmap from a leading expert on agile product management.
"Roman's course is probably one of the most valuable courses that I've ever attended. The unique and dynamic structure of the course really aided my own learning and allowed me to apply my previous knowledge in a practical way right from the beginning. I cannot commend Roman highly enough. His courses are a must-attend for anyone wanting to improve their product owner knowledge and skills." - Seth Rubin, Head of Product at Webgains
The agenda includes:

Product Planning Overview
Vision and Agile Product Strategy
Business Model Creation
Agile Product Roadmapping
Seating is limited. Secure your seat and enrol today!
About Roman Pichler
Roman is a leading expert on agile product management and Scrum with an outstanding track record in teaching and coaching product managers and product owners. He is the author of the book "Agile Product Management with Scrum", and he writes a popular blog for product managers at AllThingsProductOwner.com.