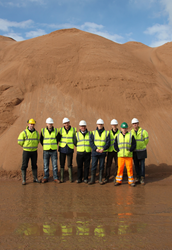 High energy costs and the social need to reduce energy usage whenever possible meant that this was a key benefit for Mansfield Sand.
(PRWEB) June 02, 2014
Mansfield Sand in Nottinghamshire, UK, has recently invested in a new static fluid bed sand dryer and cooler from GEA Barr-Rosin. The new system will allow the company to process a much wider range of sands using trusted technology that has served it well for many years. The product evolution has also allowed Mansfield Sand to significantly reduce energy consumption in the drying process.
The company produces a range of high-quality sands for a variety of applications such as sport, equestrian, landscaping, leisure, access and general industrial applications. It has been quarrying sand in Mansfield for 200 years and, in addition to its industrial customers, supplies around 400 golf courses and many football league clubs with its products.
Apart from reducing transportation costs, sand has to be dried and cooled to provide the flow and storage properties demanded by customers. Although the existing GEA Barr-Rosin static dryer/cooler at Mansfield Sand had been operating well for almost 30 years, the relocation to a new quarry, as well as an expanding product range, required a new installation together with a new look at the technology employed.
To accommodate a range of up to six different sand grades, previous experience would suggest that Mansfield Sand would have to use a vibratory dryer rather than the static system that had served it so well for so long. Vibratory systems are however in constant motion and are therefore generally less reliable than static systems and have higher maintenance costs.
"With some applications we have no choice, but we never supply a vibratory system if a static system will work," explained Barrie Mathews, from GEA Barr-Rosin. "In this case the customer too preferred to use static technology so we set about developing the design so that we could accommodate its needs."
Developments by GEA Barr-Rosin have resulted in a new system combining the usual robust and reliable construction with the differentiated process flexibility to handle various material grades ranging from very fine sands to more granular products. As part of its cost analysis, Mansfield Sand considered the additional cost of spares, maintenance and potential unplanned shut downs should a vibratory system be chosen. This calculation, and the technology developments that GEA Barr-Rosin had achieved, made the decision clear.
GEA Barr-Rosin has also improved Mansfield Sand's environmental footprint by including an exhaust gas recycle system which recovers a significant proportion of the heat for reuse in the process. "This is not new technology, but we have not applied it before to sand dryers," explained Barrie. "High energy costs and the social need to reduce energy usage whenever possible meant that this was a key benefit for Mansfield Sand."
The result is a new system that allows the customer to meet the demands of its market with the technology it trusts while reducing both its energy usage and environmental impact. A great result all round.