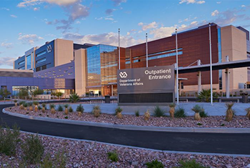 Providing the essentials for our Veterans is an honor.
(PRWEB) June 04, 2014
Hamilton Pacific Chamberlain of Waldorf, Maryland, a SDVOSB, has an ongoing project with the Houston Veterans Affairs Medical Center in Houston, TX. This project includes the complete renovation of the VA restrooms at the cost of $563,300.00. This project will see that the renovation is in line with other renovated parts of the Medical Center and that the project is completed in as little time as possible to ensure comfort for the employees and patients.
This essential renovation will include a plumbing and electrical upgrade for the restrooms as well. The restrooms serve as a vital asset to the VAMC and will provide comfort and ease for the Nation's Veterans. HPC is working with the Houston VAMC staff to ensure that all safety needs for the duration of construction are met. Griffin Hamilton USN Ret., the President of HPC, has said about the project, "Providing the essentials for our Veterans is an honor."