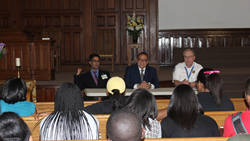 Hudson County, NJ (PRWEB) June 02, 2014
CarePoint Health hosted an event for New City Kids at the Vroom Street Evangelical Free Church in Jersey City on May 20, 2014. CarePoint Health brought together a panel of speakers to provide information about jobs in the field of medicine and to encourage high school students to consider careers in health care. On hand were Dr. Angelo Caprio, Dr. Vivek Masson and EMT Captain Ray Branagan for an informational and question and answer session with program members. New City Kids is a non-profit organization in Jersey City that provides educational and after school programs and whose mission is to create a community of academic, leadership, musical, and spiritual development for young people in the area. The event was part of a continuing effort by CarePoint Health to reach out to the communities served by Bayonne Medical Center, Christ Hospital and Hoboken University Medical Center.
The panel speakers have deep ties to Hudson County: Dr. Angelo Caprio is the Chief Medical Officer at Hoboken University Medical Center; Dr. Vivek Masson, who grew up in Jersey City, is the head of Radiology at CarePoint Health; and Ray Branagan is a leader of the EMT squad. Each discussed their area of expertise, their education and career ambitions. The heart of the presentation was an exploration of workplace responsibilities in their respective jobs. The students were able to ask questions and expressed enthusiasm for opportunities in the field of health care. The event was indicative of the connections CarePoint Health has made with communities in Hudson County and the health system's commitment to partner with organizations that are dedicated to the overall wellness families in the area.
For more information about CarePoint Health's community outreach, contact:
Allyson Miller
CarePoint Health
Vice President of Marketing and Public Relations
Phone: 201-858-5297
Fax: 973-646-5563
Email: AMiller(at)bayonnemedicalcenter(dot)org
About CarePoint Health:
CarePoint Health brings quality, patient-focused health care to Hudson County. Combining the resources of three area hospitals - Bayonne Medical Center, Christ Hospital in Jersey City, and Hoboken University Medical Center - CarePoint Health provides a new approach to deliver health care that puts the patient front and center. We leverage a network of top doctors, nurses and other medical professionals whose expertise and attentiveness work together to provide complete coordination of care, from the doctor's office to the hospital to the home. Patients benefit from the expertise and capabilities of a broad network of leading specialists and specialized technology. And at CarePoint Health, all of our medical professionals emphasize preventive medicine and focus on educating patients to make healthy life choices. For more information on our facilities, partners and services, visit our website, http://www.carepointhealth.org.
About New City Kids:
Through its holistic approach of fusing music with academic, leadership and spiritual development, New City Kids engages young people of all ages to create a strong, loving community. New City Kids is more than an after school center; it is a community where 100% of seniors graduate high school and go on to college. Our teens are empowered to lead two after school centers, a summer camp, and a sailing school and in the process not only become leaders, but help turn an old city into a New City. Walk through our doors and witness how a moment of discovery leads to a lifetime of change by visiting http://www.newcitykids.org.