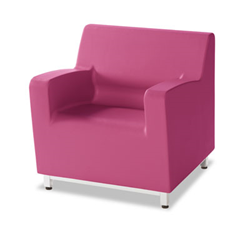 Hondo Nuevo® offers a solution for many facilities that are looking for extreme durability and an aesthetically pleasing look.
WEST CHICAGO, IL (PRWEB) June 04, 2014
Norix Furniture, a provider of robust products for challenging environments for more than 30 years, will introduce its new Hondo Nuevo® line of contemporary lounge furniture, along with a new selection of vibrant colors called High Brights, at NeoCon 2014 on June 9-11 at the Merchandise Mart in Chicago. Attendees are invited to visit Norix at booth 7-2046 to view a selection of products in these new colors and to speak to company representatives.
The company's Hondo Nuevo® line of furniture combines superior durability and style with chair, bench and wedge options to create modular seating arrangement. The furniture is specially designed for healthcare, hospitality, education, and other commercial interiors where extreme durability is a must.
The High Brights color palette is available in the company's Hondo Nuevo® and Forté™ series of furniture and includes four lively colors – Lime, Mango, Orchid, Reef – that help facilities humanize environments that have historically been considered institutional.
"NeoCon brings together the most notable manufacturers of furniture from around the world, and our new Hondo Nuevo® line of furniture and our new color palette puts us up there with the best of them," Brad Karl, Norix Furniture Product Manager, said. "Hondo Nuevo® offers a solution for many facilities that are looking for extreme durability and an aesthetically pleasing look. And with our new High Brights color palette, we offer an upgraded and unique product that is, quite honestly, a lot of fun in the sense that it helps soften environments that need that human element."
The signature piece of Hondo Nuevo® is the chair, which combines ergonomically correct style and comfortable lumbar support and comes with or without arms. All pieces of this furniture line – chairs, benches, wedges, stools – are made of rotationally molded, vinyl seats that are attached with security fasteners to your choice of molded plinth, steel, molded wood grain leg or genuine wood leg base options. Additionally, the pieces are filled with 3 lb. density, polyurethane foam filling, for cushioned comfort.
"In addition to its contemporary design, Hondo Nuevo® has been put through the most rigorous testing to ensure that it will hold up against the toughest of environments," Karl said. "By design, the molded seats are seamless – with no sewn stitches virtually impervious to fluids and easy to clean."
In particular, Hondo Nuevo is compliant with multiple flammability standards and is resistant to bodily fluids and salt and chlorine solutions. It also is puncture resistant up to 257 pounds per square inch and is GREENGUARD and GREENGUARD Gold Certified after stringent testing showed it to be in compliance with the low emissions standards set by UL Environment for indoor facility use. It also is CAL TB 133 Compliant and passes BIFMA 5.4.
The High Brights color palette strays from the unexciting neutral and monochromatic colors that have often been found inside institutional environments. The colors include poppy shades of green, light blue, orange and lavender and can be matched to the personality of the region where facilities are located.
"What facilities and patients really need is positive distraction and visual interest. Color is a great cost-effective way to provide that," Karl said. "Norix High Brights are a great tool for enriching a space with lively contemporary color in order to humanize a challenging environment."
According to its website, NeoCon is considered North America's "largest design exposition and conference for commercial interiors," drawing more than 40,000 architecture and design professionals from around the world to its annual show.
For more information on Hondo Nuevo®, please visit norix.com/hondo-nuevo.asp.