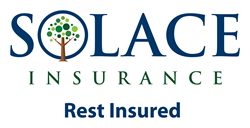 At Solace, we strive to provide our customers with breakthrough methods of obtaining the most suitable insurance policies for their needs, while also providing consistent access to those programs at the convenience of every client.
Tampa Bay, FL (PRWEB) June 03, 2014
Innovative technology is revolutionizing the insurance industry and allowing for increasing interaction between consumers and insurers. A new study that provides an analysis of how the "internet and mobile devices are empowering consumers to search, review and purchase insurance policies" suggests that the changing landscape is becoming increasingly consumer-centric. (1) The impending digital transformation is a trend that Bob Childress, CEO of award-winning Tampa Bay-based insurance agency Solace Insurance, has long embraced—a fact which led to Childress recently joining the Progressive Insurance Agency Technical Advisory Board , a committee founded by the Progressive Corporation, one of the largest auto insurance providers in the U.S.
Progressive's Agency Technical Advisory Board is comprised of 12 agents from around the country who convene throughout the year to discuss technical topics pertinent to Progressive and its internal technology. As a member of the council, Childress will serve a three-year term and will lend his observations based on Solace's experiences with each specific discussion topic; he will also extend advice based on his own technical experience as it relates to any integration or workflows Solace may have in relation to Progressive Insurance.
According to Childress, American consumers' growing need for convenience in the digital era has necessitated the advancement of technology. Reports indicate that insurance customers who provide access to smartphone applications, online chat and email as complementary channels for interacting with their insurance providers "are significantly more satisfied than [customers] using only their purchase channel to meet their service needs" (2)—but despite the demand, these widely-available technological advances are not being fully utilized by insurance agencies nationwide.
Childress attributes the resistance of insurance agencies to implementing current industry standards to expenses—many agencies are small ($1 2 million in written premiums), and simply cannot afford sophisticated systems. But the lack of technology leaves those agencies blind to many trouble spots, particularly with regard to security; for instance, the majority of insurance agencies have finally begun to use PDFs as a means of distributing applications, but most of those applications are sent via unsecured methods and present a major problem to both the agencies and their clients, per Childress.
"The processes currently in place at many agencies offer little to no security to the customers and the agencies. Unencrypted customer data—meaning the data hasn't been converted into a code designed to prevent unauthorized access—exposes clients to the risk of data capture or even identity theft," said Childress. "At Solace, we strive to provide our customers with breakthrough methods of obtaining the most suitable insurance policies for their needs, while also providing consistent access to those programs at the convenience of every client."
Solace only uses secured encrypted delivery methods, a key component in the company's speed of service, efficiency, accuracy and security, as well as a driving force in its competency in protecting client's data and providing fluid and reliable service capabilities. The company's bundled data systems have "pass-through" technology, meaning every customer's data can quickly and securely be moved between Solace's different systems to meet the needs of each client. Solace also regularly audits its own staff as a safeguard to ensure the highest quality service to clients, in addition to providing an effective training tool for improving staff capabilities.
For consumers who are seeking a technologically advanced insurance agency, Childress encourages first ensuring that the company is supported by security measures enacted to protect the consumer in the event of a data breach. As insurance is an industry which is steadily evolving, Childress says the backbone of Solace's company culture lies in remaining ahead of emerging trends in the industry.
Solace's technology applications allow customers to access their accounts 24/7, so customers are able to make quick and easy payments, amend their policies, retrieve quotes, update their personal details, and file claims at any time.
For more information about Solace Insurance and its services, visit http://www.restinsured.com.
About Solace Insurance:
As an independently-owned, full-service agency based in Tampa Bay, Florida, Solace Insurance has over $1 billion in property insured and has provided quality insurance products to customers for over 30 years. Solace is a licensed insurance agency within the top two percent in technology use for agencies nationwide. The company also holds Premier Partner designations with multiple carriers. This status is what allows Solace to offer its customers the most competitive and economical programs available, all while providing expert advice and quality service. From standard auto policies to the more complex multi-tiered insurance programs for home and business, Solace has the depth of resources to find the right policy tailored to each individual and/or company. CEO of Solace, Bob Childress, is one of the twelve agency advisors on the Agent Technical Council in the U.S. for Progressive Insurance. For more information, visit Solace online at http://www.restinsured.com.
1. "How Technology Is Revolutionizing Insurance Distribution: Swiss Re." N.p., 15 May 2014. Web. 15 May 2014. insurancejournal.com/news/national/2014/05/15/329321.htm.
2. Cattchio, C., "Insurance smartphone apps, email, and online chat lead to higher customer satisfaction." answerfinancial.com/insurance-center/insurance-smartphone-apps-email-online-chat-lead-to-higher-customer-satisfaction. July 22, 2011. Web. Jan. 10, 2014.