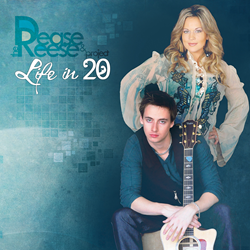 "Life can be sometimes comical, sometimes harsh and sometimes very beautiful. I try to always speak in truth." - Elisa Fiorillo Dease
Las Vegas, NV (PRWEB) June 03, 2014
A bumpy flight in a private jet with Prince was the unlikely inspiration behind the first single off the debut album by new musical duo THE DEASE & REESE PROJECT (REMU Records).
Elisa Fiorillo Dease, one of the pop star's backup singers, teamed up with rising guitar virtuoso Tyler Reese to create "LIFE IN 20," an album that is easy on the ears but defies simple categorization. Indeed, the 12-song LP contains elements of pop, jazz, rock, funk and R&B, as exemplified by the song "All Over the World," a musical fantasy that evokes images of guardian angels spreading love.
"I hate flying," Dease said. "I was on my way to a concert in Europe with Prince when we ran into some pretty bad turbulence. I looked out the window and imagined angels holding the plane up and keeping us safe. That's when I started thinking of the melody and lyrics."
As if flying into a storm, "All Over the World" begins smoothly with a soft acoustic guitar motif and Dease's sultry vocals, then builds to Reese's piercing electric-guitar crescendo. The growing intensity of the music is offset by the gentleness of Dease's lyrics:
"Look around, tell me everything you cannot see
Far beyond space and time.
Something's there and it's watching out for you and me.
Don't be blinded by the simple minds.
Angels within, lifting us up, making us fly
All over the world.
Keeping us young, waking up free, spreading our love
All over the world."
(LISTEN HERE: http://soundcloud.com/the-dease-reese-project/all-over-the-world )
Dease, who has worked with Prince since 1990, has also recorded many of her own projects dating back to 1987, including the worldwide hit "Who Found Who" with producer John "Jellybean" Benitez and her successful album "I Am," a collaboration between Dease (Fiorillo) and Prince.
Record producer Jeff Silverman, rock icon Rick Springfield's former lead guitarist, co-producer and co-writer, introduced Dease to Tyler Reese, a former Berklee College of Music guitar major now based in Nashville.
"Jeff suggested I write something with Elisa," Reese said. "I sent her an idea that I had for a guitar riff. She replied back and wrote lyrics over my idea, and it turned out to be really cool, so we decided to do a whole album together."
Reese, who soon will turn 21, won the National Guitar Workshop competition in 2011. He has studied with acclaimed Jazz guitarist Pat Metheny and has opened for Scotty McCreery, Martin Sexton, Ron Holloway and Linwood Taylor. He describes The Dease & Reese Project as having a different range of styles and influences, from smooth jazz to pop, R&B, funk and rock. It is an example of how he is evolving musically.
"I have always been interested in all kinds of music," Reese said. "What this project has done is help bring out the writer in me. Writing music with Elisa has not only been an amazing experience, but has also helped me develop and gain inspiration more and more in that aspect."
The title of the album, "Life in 20," refers to life experiences that span 20 years. The songs touch on such diverse themes as romance ("Share It With You"), lost love ("How Did it Happen?"), procrastination ("Let it In"), food addiction ("Lollypop Ice Cream"), courage ("Little Flower"), self-discovery ("Storybook"), abusive relationships ("What Good is Love?"), staying true to yourself ("East Coast Kind of Girl"), encouragement ("It's All Okay"), and the joys and challenges of motherhood ("A Momma Who Knows How to Funk"). The only instrumental track, "Going Home," is an ambient guitar solo by Reese. Each selection is thematically different, yet shares a similar stylistic mix.
"Even though you'll hear many different influences in these songs, the common glue is an R&B/soul feel that the three of us have in common," producer Silverman said. "Having been a Motown writer for several years with roots ranging from R&B, rock, pop, country and fusion, Elisa's diverse musical background, and Tyler's Jazz, funk, rock, metal, country and fusion styles, I feel this is Elisa's best release to date."
"It's a gift to be able to channel thoughts into songs," Dease added. "Writing about the experiences I've had in my life, I feel I can connect with my audience in a positive way. Life can be sometimes comical, sometimes harsh and sometimes very beautiful. I try to always speak in truth. Lyrically you will be able to see that I wear my heart on my sleeve."
"LIFE IN 20" by THE DEASE & REESE PROJECT is available through iTunes, Amazon, CDBaby and other online music retailers. More information is available at http://www.DeaseAndReese.com.
iTunes: https://itunes.apple.com/us/album/life-in-20/id879582005
Amazon: http://www.amazon.com/Life-The-Dease-Reese-Project/dp/B00KJO0EK8
CDBaby: http://www.cdbaby.com/cd/thedeasereeseproject2
# # #