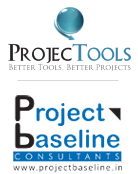 Bellville, Texas (PRWEB) June 09, 2014
ProjecTools announced today a partner agreement with Project Baseline, Mumbai India based project management training and consulting provider.
ProjecTools offers the most comprehensive project management software on the market built by and for project management professionals in the Oil & Gas industry. ProjecTools Marketing Manager, Eric Morey, adds, "Project Baseline impressed me out of the gate with their large scale Oil & Gas and EPC project experience. This partnership will provide the Indian Oil & Gas and EPC industry with better access to ProjecTools application."
Project Baseline is a company that serves the Oil & Gas, EPC, and Capital Construction markets in India and Asia Pacific. They specialize in Project Planning & Control, project management staffing, auditing, and training. The director of Project Baseline Consultants, H.M. Panchal, PMP, says about the partnership "I am very excited to partner with a leading cloud project management application like ProjecTools. The partnership will expand access to ProjecTools thereby improving the success of Capital Projects in India."
Project Baseline Consultants stands out by implementing processes and information systems with a strong focus on planning, scheduling, and cost management.
1 +91-9821400226 http://www.projectbaseline.in
Contact Hasmukh Panchal at contact(at)projectbaseline(dot)in for more information.