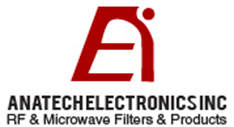 Garfield, NJ (PRWEB) June 02, 2014
Anatech Electronics, a company that focuses on design and manufacturing of RF and microwave filters, will be introducing a new 225-400 MHz Voltage Tuned Filter (VTF) at the International Microwave Symposium (IMS) in Tampa Bay, Florida. The VTF will be on display at the exhibit demonstrating live operation and performance. The IMS 2014 is located at the Tampa Convention Center on 333 S. Franklin Street, Tampa, FL 33602.
Exhibit Features:

Anatech Electronics will be hosted in booth #1709 and staff members Mr. Sam Benzacar and Marlene Wurm will be present to answer questions.
A live performance and operation of the 225-400 MHz VTF will be demonstrated.
Other products will be featured such as Cavity Bandpass filters, Ceramic Bandpass and Duplexers.
Anatech will be at the exhibit from June 3rd to June 5th.
The International Microwave Symposium is held annually with technologists involved in all components of microwave theory and practice. IMS offers technical sessions, interactive forums, plenary and panel sessions, workshops, short courses, industrial exhibits, application seminars, historical exhibits, and a wide array of other technical and social activities.
About Anatech Electronics:
Anatech Electronics, Inc., is a privately-held, ISO 9000:2000-certified company founded in 1990 that focuses on the design and manufacturing of RF and microwave filters and related products. Our broad array of products are employed in commercial, aerospace and defense, and industrial applications throughout the world. We specialize in rapidly responding to customer needs and creating cost-effective solutions to meet them.
Please visit the Anatech Electronics website for further information.