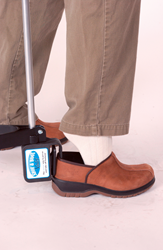 I sold 3 units to one diabetic for his own use; one for use in his home, one for his office and one he used in his car to pull his feet into the vehicle and take them out. The device is very strong.
Tulsa, OK (PRWEB) June 03, 2014
For most people, a bad shoe day means a blistered heel or painful arch that goes away quickly. But for people with diabetes, poor footwear can trigger serious problems, such as foot ulcers, infections, and even amputation. Proper footwear is an important part of an overall treatment program for people with diabetes, even for those in the earliest stages of the disease. Eighteen (19) million Americans are diagnosed with this disabling disease. If there is any evidence of neuropathy, or lack of sensation, wearing the right footwear is crucial. The industry has recognized this and there are many shoe products available to address these painful issues.
Diabetes affects blood vessels and nerves and therefore can affect any part of the body. Millions of diabetics have painful issues with everyday situations such as getting dressed, etc.
The Shoe Boot Valet was specifically designed to assist people with diabetes and dozens of other afflictions to put on and take off their footwear, relieving painful issues and giving them back independence they may have lost. The SBV is the only product that effectively provides this service. To learn more about the product go to http://www.shoebootvalet.com/, read the information and see the video.