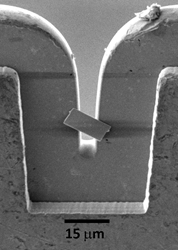 "Now the FIB can be used for ion milling, imaging, and analytics, instead of tying up the instrument for complicated and time consuming manipulation processes."
Fort Myers, FL (PRWEB) June 03, 2014
EXpressLO LLC, expert provider of focused ion beam (FIB) ex situ lift out specimen preparation solutions, has been granted a patent by the U.S. Patent and Trademark Office for a unique specimen carrier support grid design.
U.S. Patent Number 8,740,209 was awarded to EXpressLO LLC founder and President, Dr. Lucille A. Giannuzzi. The patent is effective through June 20, 2032. Dr. Giannuzzi also holds several other patents related to FIB specimen preparation processes.
The EXpressLO™ carrier support grid holds site specific FIB prepared specimens, allowing research scientists and engineers to perform characterization and analyses by electron microscopy or other analytical instrumentation. The carrier support grid provides a recessed surface surrounded by inclined walls to hold and protect the grid during transport, storage, and analysis. Other micrometer sized particles, particulates, or fibers may also be easily manipulated to this carrier grid for subsequent analyses. With the patented support grids and patent pending method, lift out and manipulation of specimens are performed outside the FIB on an EXpressLO™ station, reducing the capital cost of specimen preparation by more than 90 percent. This lift out process benefits FIB users in industry and universities in both the life sciences and physical sciences.
"This is a unique specimen support grid design which combines the ease of use, reproducibility, and throughput of the FIB ex situ lift out technique, with flexibility in specimen positioning and post-processing capabilities," stated Dr. Giannuzzi. "Now the FIB can be used for ion milling, imaging, and analytics, instead of tying up the instrument for complicated and time consuming manipulation processes."
EXpressLO LLC will showcase this solution at the following upcoming conferences/exhibits: IUMAS-6 and Microscopy & Microanalysis 2014 in Hartford, CT August 2-7, 2014; the 18th International Microscopy Congress (IMC) in Prague, Czech Republic, September 7-12, 2014; and the 40th International Symposium for Testing and Failure Analysis (ISTFA) in Houston, TX, November 9-13, 2014.
For more information, please visit http://www.EXpressLO.com or contact Dr. Giannuzzi directly at info@EXpressLO.com. Videos may be viewed at http://www.YouTube.com/LAGiannuzzi.