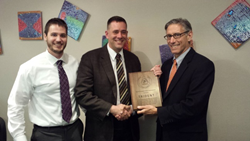 Fairfax, Virginia (PRWEB) June 04, 2014
Mr. James Spears of Marine Air-Ground Task Force (MAGTF) Command, Control, and Communications presented the plaque to Trident on 29 April, commending the company for contributions to air defense and related technologies. Trident has worked closely with the Marine Corps for over a decade developing innovative and affordable systems from ruggedized portable large-screen LCD displays for mobile command centers, to a family of compact communications cross-connects providing interoperability across dissimilar radio networks, and a mobile radar/optical surveillance system for improved warfighter air/ground situational awareness and rapid response to emerging Unmanned Air Vehicle (UAV) threats.
"We're proud to receive this award and are gratified by recognition of our contribution to the Navy-Marine Corps team," says Nick Karangelen, Trident Systems' President. "Trident remains committed to harnessing emerging technologies for use by our warfighters and delivering them within budget on short development schedules."
Trident's pipeline of technology solutions making their début this year include: a compact Ground Moving Target Indication (GMTI) and Synthetic Aperture Radar for small UAVs named microRAPTOR; an enhanced XMPP chat room client/server application, TacChat, supporting chat in challenging communications environments; and a certified cross-domain voice and video solution (V2-CDS).
About Trident
Trident Systems is a veteran-owned small business that delivers innovative and affordable technology solutions for critical government and commercial needs. Founded in 1985, Trident continues to harness technology and provide leading-edge solutions to every Military Service, the Intelligence Community, and a broad spectrum of government and industry partners. Trident develops products in three primary focus areas: Integrated C4I systems, Radar Systems, and Assured Collaboration Systems. Trident also provides an array of services from Complex Systems Engineering services for complex system development as well as Collaboration Services, providing a full range of design / build services for state of the art facilities including supporting of the Integrated Air Defense System in the National Capital Region. Trident has offices in Fairfax, Virginia (HQ), and Raleigh, North Carolina. For more information, visit http://www.tridsys.com/.
###