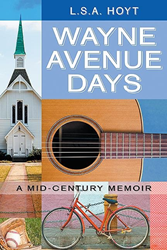 (PRWEB) June 03, 2014
Although new starter homes were popping up filled by those with more liberal views, Hoyt's part of town was behind the curve and locked in the 1940s, with older and more traditional values in place. The author transports readers to the wonderful realm of her childhood experience, bringing the characters to life with sprinkles of humor and great attention to detail.
Hoyt reflects on the lives and influences of family, friends, and ancestors that all took place in her beloved winding, wooded Wayne Avenue during those mid-century days. Tracing her dreams for the future and her fond memories of the past, the book recalls one woman's relationships, hardships, tragedies, and triumphs, which all frame the stories of "Wayne Avenue Days".
WAYNE AVENUE DAYS: A MIDCENTURY MEMOIR (ISBN: 978-1-62857-422-7) is now available for $12.50 and can be ordered through the publisher's website:
http://sbprabooks.com/LSAHoyt or at Amazon, Barnes & Noble and other online retailers.
WHOLESALERS: This book is distributed by Ingram Books and other wholesale distributors. Contact your representative with the ISBN for purchase. Wholesale purchase for retailers, universities, libraries, and other organizations is also available through the publisher; please email bookorder(at)aeg-online-store(dot)com
About the Author: L.S.A. Hoyt, MS Ed., is a retired music teacher, musician, and author. She and her husband raised their family in a small working-class town in the Hudson River Valley, New York, where they still remain.
Strategic Book Publishing and Rights Co, LLC