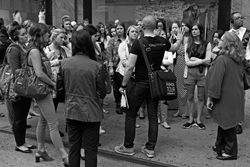 The WindowsWear Fashion Window Walking Tour gives students an opportunity to learn first-hand from world-famous stores and industry professionals.
New York, NY (PRWEB) July 01, 2014
Students from universities across the globe are subscribing to WindowsWear PRO (http://pro.windowswear.com) as an invaluable resource for their curriculum and coursework. Many have also participated in WindowsWear's Fashion Window Walking Tour (http://www.windowswear.com/tours). WindowsWear's services provide real-world fashion industry perspective in classroom studies around the world.
WindowsWear PRO is ideal for fashion design, visual merchandising, marketing, educators, and students. The online resource gives educators and students competitive research, inspiration, and comprehensive reporting on visual merchandising trends and store environments, including design, color, style, and mannequin trends. Through WindowsWear PRO, educators and students can research 30,000+ high-quality window displays to get ideas that can aid them in their field of study. Women's Wear Daily (WWD) says "the site allows merchandisers to keep tabs on global fashion trends in real time."
"I am excited to have WindowsWear as an industry partner, it will provide invaluable project ideas in the classroom and help educators and students stay current with retail trends around the world," said Dash Nagel, Managing Director of The Planning and Visual Education Partnership (PAVE) a 501(c)(3) not-for-profit corporation, which represents over 800 educators in encouraging students to study in the field of retail design and planning and visual merchandising. "Our industry relies on fresh, young, and experienced talent. Using WindowsWear PRO in the classroom will only help to further fuel their creativity."
WindowsWear's Fashion Window Walking Tour enables participants to better experience NYC's fashion industry and its top fashion window displays. Students learn about the history of NYC's fashion industry, its most famous retailers, and how they design their latest windows on display. MasterCard's LoveThis City says "NYC is the capital of art and fashion; catch the best of both in one place!"
"The fashion window walking tour was absolutely fabulous. Our students especially expressed their appreciation in hearing 'behind the scenes' comments from Lord & Taylor's VM," said Carol Easley, the Assistant Professor of Practice, Department of Textiles, Merchandising, & Fashion Design (TMFD) at University of Nebraska-Lincoln. "Several students participating in the study tour had just completed our visual merchandising course with Dr. Shubha Bennur -- who utilized WindowsWear PRO as a valuable course resource this past semester!"
For more information on WindowsWear PRO or the Fashion Window Walking Tour, please contact pr(at)windowswear(dot)com.
About WindowsWear
WindowsWear PRO (http://pro.windowswear.com/) is a subscription service that provides comprehensive trend reporting, analysis and data on the world's fashion window displays, covering all the windows of the world's fashion capitals including NYC, Paris, Milan, London, Barcelona, L.A., and Hong Kong. Subscribers include top fashion brands and universities from around the world who use it for competitive research and inspiration. The service covers 30,000+ windows from 550 brands across the world. Glamour says it's "the Google Earth of store windows."
WindowsWear.com allows users to digitally shop the latest styles and looks in the windows of the world's fashion retailers. ELLE says "impressive," Glamour says "stunning", Redbook says "awesome", WWD says "WindowsWear bridges technology and e-commerce."
WindowsWear Fashion Window Walking Tour (http://tours.windowswear.com/) is NYC's premiere fashion tour. It's an in-depth journey into NYC's fashion industry, its most famous stores, how they design their windows, and the latest fashions on display. Time Out New York says: "WindowsWear took window shopping to a whole new level."