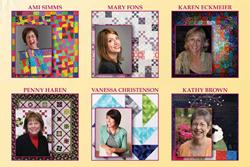 Shipshewana, Indiana (PRWEB) June 04, 2014
An all-star line-up of presenters has been put together for 2014 with nationally-known quilters, lecturers, teachers, and designers. A unique Panel Discussion on Wednesday, June 25 with famous quilters Ami Simms, Mary Fons, Vanessa Christenson, and Penny Haren is new this year, providing a chance to meet four personalities at one time.
Also new to the festival is the first Quilt Show Awards Ceremony – "Night at the Museum." Held in the unique setting of Hostetler's Hudson Auto Museum, attendees will be the first to view the Quilt Show "Winner's Circle" with all quilt category winners, plus the unveiling of the Grand Prize winning quilt. This activity is open to the public but requires pre-enrollment by June 10 to attend.
Featured guest presenters include: Ami Simms, noted author and teacher known for her whimsical quilting and teaching style; Mary Fons, author and co-host of Love of Quilting on PBS, as well as creator and editor of the online program and magazine Quilty for the beginner quilter; Vanessa Christenson, author, fabric designer for Moda fabrics, Aurifil thread designer, and pattern designer; Karen Eckmeier, an award-winning quilter known for "painting" with fabric and teaching her "Layered Curves" method; Kathy Brown, an accomplished quilter, fabric designer, and sought after teacher in the quilt industry with several published books and patterns; and Penny Haren, quilter and author, specializing in developing and teaching techniques like her Pieced Appliqué™.
The Shipshewana Quilt Festival, held annually in the heart of Amish Country, is the region's largest event of its kind featuring a Quilt & Vendor Show, educational workshops and lectures, a quilter's schoolhouse, Backroads Shop Hop, and more. The event draws thousands of visitors, both nationally and internationally, to the area each June.
For more information on the Shipshewana Quilt Festival, visit http://www.shipshewanaquiltfest.com or call 866.243.9434.