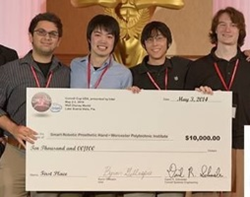 Worcester, Mass. (PRWEB) June 02, 2014
A four-person undergraduate team from Worcester Polytechnic Institute (WPI) captured first-place honors at the Third Annual Cornell Cup USA recently at Walt Disney World Resort in Orlando, Fla., for the development of a smart robotic prosthetic hand.
The WPI team was selected from an initial field of about 100 teams, which was whittled down to less than three dozen finalists. The team – composed of recent undergraduates Sean Casley, Deniz Ozgoren, Thanacha Choopojcharoen, and Adam Jardim – received a $10,000 grand prize for their victory. Dubbed the "IrisHand," the device is a semiautonomous robotic prosthesis capable of using an advanced vision system to determine the most appropriate finger positions for grasping an object. The team developed the hand as part of their senior capstone project.
Unlike similar prosthetic hands that are limited to 24 different preloaded grips, the team's device allows for more grips while simultaneously simplifying the user input to just two commands: open and close.
"Our prosthetic hand does a lot of what your subconscious would do with your natural hand," explained Casley, of Guilford, Conn. "If you're reaching for a cup or an object, you don't have to actively think about where you need to position your fingers. We wanted to mimic this behavior."
A provisional patent on the concept was filed last month through WPI's Office of Intellectual Property & Innovation.
Casley said the development cost for the prosthetic hand was $1,700 and they are hoping to keep the sales price under $20,000 to make it accessible to a larger population of amputees. The team said the current price point for a prosthetic hand ranges from $30,000 to $100,000.
"Our main selling point is that we offer increased functionality with a simpler user interface at a lower cost," said Casley.
The team was advised by Taşkin Padir, assistant professor of robotics engineering, and Cagdas Onal, assistant professor of mechanical engineering.
"This accomplishment by the team is a testimony to the effectiveness of WPI's projects program," said Padir. "Equipped with multidisciplinary engineering skills, our students continue to demonstrate their innovative ideas through design competitions such as the Cornell Cup."
Onal noted that there is considerable scientific impact and research opportunities based on this work. "Enabling prosthetic hands that intelligently provide grasp assistance is transformative, paving the way towards new frontiers in intimate human-robot collaboration," said Onal. "We are very interested to study functional assistance in what comes after a grasp."
This is not the first attempt to build a low-cost prosthetic hand at WPI. Two years ago, Paul Ventimiglia '12 produced a complete mechanical design of a standalone prosthetic hand as part of his senior capstone project.
In his senior project, dated April 26, 2012, Ventimiglia noted that the functional prototype he developed could help future projects. "That prototype could serve as a platform for future (senior projects), and academic research both at WPI and other institutions," he wrote.
Each of the current team members – who graduated last month with bachelor's degrees in robotics engineering – bring specific expertise to the project. Casley focuses on mechanical design, Jardim handles software development, Ozgoren is the electrical engineering lead and embedded programming, and Choopojcharoen develops the control system.
Casley said there are currently several other prosthetics on the market, but the team viewed them as somewhat limiting to users. "We took what we learned during our time as robotics engineering undergraduates and improved upon those concepts," said Casley.
This year's competition featured 34 finalists from more than a dozen institutions throughout the country demonstrating creations ranging from an advanced GPS navigation systems to an embedded medication distribution system.
The Cornell Cup USA, presented by Intel, is a college-level embedded design competition created to empower student teams to become the inventors of the newest innovative applications of embedded technology.
The two-day, expo-style event displayed student teams' creations that were measured by a panel of judges. In addition to the $10,000 grand prize, second-place ($5,000) and third-place ($2,500) prizes were also awarded.
Two other WPI teams – one that developed a personal assistance robot known as "PARbot" and one that created a sensitive calligraphy robot – were also finalists. The PARbot team, also advised by Padir, was composed of recent graduates Kevin Burns, Olivia Hugal, Nikhil Godani, Julien Van Wambeke-Long, and Jeffrey Orszulak. The calligraphy robot, advised by Eduardo Torres-Jara from the Robotics Engineering program, was led by WPI graduate Carly Buchanan.
Other participating colleges in the finals included Duke University, Purdue University, University of Pennsylvania, Virginia Tech, and University of Massachusetts Amherst and University of Massachusetts Lowell.
About Worcester Polytechnic Institute
Founded in 1865 in Worcester, Mass., WPI is one of the nation's first engineering and technology universities. Its 14 academic departments offer more than 50 undergraduate and graduate degree programs in science, engineering, technology, business, the social sciences, and the humanities and arts, leading to bachelor's, master's and doctoral degrees. WPI's talented faculty work with students on interdisciplinary research that seeks solutions to important and socially relevant problems in fields as diverse as the life sciences and bioengineering, energy, information security, materials processing, and robotics. Students also have the opportunity to make a difference to communities and organizations around the world through the university's innovative Global Perspective Program. There are more than 35 WPI project centers throughout North America and Central America, Africa, Australia, Asia, and Europe.