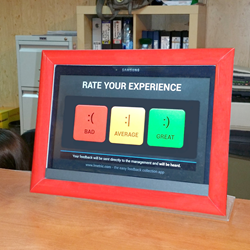 (PRWEB) June 03, 2014
It can work on any Android-operating tablet.
Tablets with LMetric can be placed directly in an office or business. It can also be used for the personnel who work outside of the main building. All they need is a tablet with LMetric so the customer can leave their feedback after the job is done.
The feedback is sent back directly to the server and immediately made visible on the easy-to-read graphs.
Screenshots, sample pictures and registration is available at the official website: https://lmetric.com/en.
LMetric features:

Collecting general feedback ('Bad', 'Average', 'Great').
Adding and customizing questions for the device(s).
Taking pictures of the people who left the feedback (optional).
Associating feedback with certain tasks by requiring a ticket ID.
Collecting feedback anonymously.
Accessing and sending the data through a secure, encrypted, SSL connection.
A study conducted in a company among the early clients of LMetric showed that:

It takes only a second for a customer to provide general feedback.
If the tablet is placed in an accessible location, people will be glad to voice their opinion, yielding statistically representative data.
LMetric was used over a thousand times more than other means to leave feedback:
16.33% left their feedback with LMetric app
Only 0.016% left their feedback by other means
Professor Jean-Jacques Lambin in his book 'Market-Driven Management: Strategic and Operational Marketing' provided some information that explains how important it is to constantly be aware of the customers' satisfaction. His data is based on a meta-analysis of 500 polls conducted in Europe within all economic sectors (the average poll size was 300):

Only 2.9% of sales lead to a direct complaint to the company.
Approximately 28.6% of sales lead to an indirect complaint shared with sales personnel, neighbors, friends, etc.
In addition, 9.2% of complaints are never mentioned to anyone.
The probability for a satisfied customer to make another purchase with the company is 91%.
The probability for a customer to return who filed a complaint to the company, but were not satisfied with how the company responded, is 54%.
For the customers who filed a complaint, and were satisfied with how the company responded, the probability is 96% for them to make a future purchase with that company; even more likely than a customer that was satisfied to begin with!
LMetric is currently in a public beta phase and all the features are free of charge.