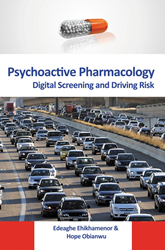 (PRWEB) June 03, 2014
Portable electronic digital screening devices such as "Oral Screen" along with other screening devices were used to establish the prevalence of substances of abuse amongst road users in some selected cities in Nigeria. Blood, saliva, urine, and other biological fluids were screened in the study. Skills impairment, characterized by unsafe driving actions based on the level of blood alcohol concentration (BAC), was evaluated using a driving simulator.
The findings in this book were validated by application of a Field Impairment Test (FIT) or by modified clinical test of impairment.
PSYCHOACTIVE PHARMACOLOGY: DIGITAL SCREENING AND DRIVING RISK (ISBN: 978-1-62516-053-9) is now available for $41.97 and can be ordered through the publisher's website:
http://sbprabooks.com/EdeagheEhikhamenorandHopeObianwu or at www(dot)amazon(dot)com or www(dot)barnesandnoble(dot)com.
WHOLESALERS: This book is distributed by Ingram Books and other wholesale distributors. Contact your representative with the ISBN for purchase. Wholesale purchase for retailers, universities, libraries, and other organizations is also available through the publisher; please email bookorder(at)aeg-online-store(dot)com.
About the Authors: Edeaghe Ehikhamenor is a senior lecturer at the University of Benin, Benin City, Nigeria, and the founder/national coordinator of Save Accident Victims Association of Nigeria (SAVAN, http://www.savan.org). He earned a bachelor of dental surgery, (BDS) a master's in pharmacology, and a Ph.D. in pharmacology and toxicology from the University of Benin, and also had a short postdoctoral training on DNA analysis at Lakehead University, Ontario, Canada. He has extensive research experience on digital screening of alcohol and other psychoactive drugs with saliva and biological fluids to establish skills impairment on a driving simulator.
Hope Obianwu is a professor of pharmacology and toxicology who has served as past dean of pharmacy at the University of Benin and is the department head at Niger Delta University in Nigeria. He is on the editorial board of several national and international journals, and has mentored several Ph.D. and master's graduates in pharmacology.
Strategic Book Publishing and Rights Co, LLC