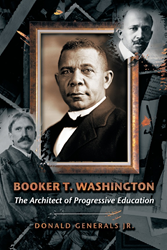 (PRWEB) June 03, 2014
The author unveils Booker T. Washington's contributions to the development and history of progressive education, while exposing the ignorance of his critics and the distortions that have defined his legacy. He writes that Washington has not been adequately or fairly portrayed, nor is he given an appropriate place in history. Instead, he is viewed as an accommodator and a conservative compromiser, willing to appease whites at the expense of African American rights and social development.
This negative image of Washington distorts his historical significance as an African American leader and educator, and he has been largely ignored in the history of progressive education. The book places Washington into the appropriate historical context, and calls into question the misinformation associated with this great American.
BOOKER T. WASHINGTON: THE ARCHITECT OF PROGRESSIVE EDUCATION (ISBN: 978-1-62516-084-3) is now available for $27 and can be ordered through the publisher's website:
http://sbpra.com/DonaldGeneralsJr or at www(dot)amazon(dot)com or www(dot)barnesandnoble(dot)com.
WHOLESALERS: This book is distributed by Ingram Books and other wholesale distributors. Contact your representative with the ISBN for purchase. Wholesale purchase for retailers, universities, libraries, and other organizations is also available through the publisher; please email bookorder(at)aeg-online-store(dot)com.
About the Author: Donald Generals Jr. is a full-time college administrator. "I was born and have lived my entire life in Paterson, New Jersey. Paterson is the birthplace of American industrialism and was the first planned industrial city." He is the vice president for academic affairs at Mercer County Community College in West Windsor Township and currently lives in Lawrenceville, New Jersey. "I write out of a sense of duty to my profession and personal joy." This book is an extension of his dissertation.
Strategic Book Publishing and Rights Co, LLC