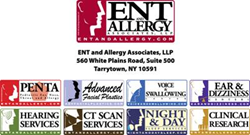 Our top priority at ENTA is always to provide our patients with outstanding medical care, delivered through a seamless and comfortable experience
Tarrytown, NY (PRWEB) June 03, 2014
At a time when new healthcare coverage laws have left more and more people feeling confused and uneasy about their access to medical care, the patients of ENT and Allergy Associates, LLP (ENTA)-the largest ear, nose, throat, allergy, and audiology practice in the nation-will continue to have clarity and peace of mind.
That's because today ENTA announced that they will be renewing their comprehensive participation agreement with Empire Plan, effective July 1st, 2014, for three (3) additional years. This extension covers hundreds of thousands of patients throughout New York and New Jersey.
Among those benefiting from this renewed participation are legislators and New York State employees covered by the Empire Plan. One of ENTA's focuses was to ensure that the hard-working personnel employed by New York State remained with the best coverage possible, regardless of which of the Practice's 40 office locations they visit.
"Our top priority at ENTA is always to provide our patients with outstanding medical care, delivered through a seamless and comfortable experience" remarked Robert Glazer, Chief Executive Officer at ENTA. "Maintaining and extending our partnership with superb managed care providers like the NYS Empire Plan ultimately helps us to achieve that level of excellence."
The Empire Plan agreement extension is the latest of a number of successful healthcare provider agreements that ENTA has recently completed.
To learn more about the benefits of ENT and Allergy Associates, or to conveniently find an ENT Doctor or Allergy Doctor and then easily book an appointment at the nearest New York (NY) or New Jersey (NJ) location, please visit http://www.entandallergy.com or call 1-855-ENTA-DOC.
About ENT & Allergy Associates, LLP
ENT and Allergy has over 150 physicians in over 40 office locations in Westchester, Putnam, Orange, Dutchess, Rockland, Nassau and Suffolk counties, New York City, Long Island and northern/central New Jersey. Each ENT and Allergy Associates clinical location provides access to a full complement of services, including General Adult and Pediatric ENT, Voice and Swallowing, Facial Plastics and Reconstructive Surgery, Disorders of the Inner Ear and Dizziness, Asthma, Allergy and Immunology, Diagnostic Audiology, Hearing Aid dispensing, Sleep and CT Services. ENTA has a clinical alliance with The Mount Sinai Hospital for the treatment of diseases of the head and neck and esophageal cancer and a partnership with the American Cancer Society to educate and treat patients with smoking disorders and cancer. The Practice has also expanded its clinical capabilities to include advanced Immunodeficiency trials. Visit http://www.entandallergy.com for more information.