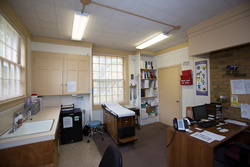 Portland, Oregon (PRWEB) June 03, 2014
Trillium Family Services, a mental health agency serving children and families in Oregon, again demonstrates itself a leader in the transformation of mental healthcare.
Trillium has become the first to be awarded the Behavioral Health Home Certification by the Joint Commission. The Behavioral Health Home Certification is given to agencies that demonstrate true integration of patient care as a way to boost overall wellness and decrease outcomes that lead to further illness.
Trillium partners with several local clinics and doctors to provide coordinated care for children utilizing residential services at both its Portland and Mid-Willamette Valley campuses. When possible, nutritionists, primary doctors, and other specialists visit with children on the Trillium campuses, offering direct care and follow up appointments related to basic healthcare needs. When more intensive services are needed, Trillium coordinates with clinics and professionals off-site, and assures children have access to this additional care.
The Joint Commission, a national accrediting agency for hospitals and health care organizations, has indicated that it hopes this certification encourages agencies to make sure the needs of their clients are being served utilizing a person-centered, comprehensive, and coordinated care approach. It further hopes to help behavioral health organizations meet state Medicaid requirements and improve the financial reimbursement structure associated with healthcare coverage.
Joint Commission surveyors additionally completed an audit of Trillium's general services and approved a new three-year certificate, noting that the agency attained the highest standards of care.
Trillium Family Services is Oregon's leading provider of children's mental and behavioral healthcare in the state. Its mission is to build brighter futures with children and families. http://www.trilliumfamily.org
For more information about the Joint Commission, please visit http://www.jointcommission.org.