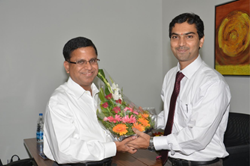 "CAPSCIENT India Private Limited will provide CAPSCIENT with a beneficial means to service our customers with an international presence." Kalanithi Venkatesan, Prsident
Pune, India (PRWEB) June 04, 2014
CAPSICENT, Oracle JD Edwards Platinum Partner and leading provider of Oracle JD Edwards integration services is pleased to announce the opening of an offshore branch office - Capscient India Private Limited in Pune, India. Mr. Kalanithi Venkatesan, Co-Founder and President inaugurated the offshore branch office on May 5th, 2014 at Pune. Mr. Kalanithi announced, "With our offshore center, we are extending our capabilities to offer round the clock services to our customers." This is an important milestone for CAPSCIENT in bringing value to the customers who look for cost effective IT solutions using combination of onshore and offshore delivery capabilities. CAPSCIENT is strategically positioned to grow in different geographic regions with middle of economies that have higher growth rates. CAPSCIENT India Private Limited will be headed by Mr. Shirish Jeble, the managing director. Shirish is an Oracle JD Edwards professional with over 21 years' Enterprise Application Integrations and ERP Trainings. CAPSCIENT India Private Limited is a value added solution provider for Oracle JD Edwards EnterpriseOne and World customers in implementation, end to end application support, Training, System Audits, Performance Tuning and much more. For further information you contact: CAPSCIENT India Private Limited, #648, Regus, Magarpatta City, Hadapsar, Pune- 411013, India. Contact no: 91-20- 6810-2121.
ABOUT CAPSCIENT
CAPSCIENT was founded by Oracle JD Edwards professionals Mr. Kalanithi Venkatesan and Mr. Michael Morgan in 2003 from Dallas, TX. Kalanithi Venkatesan the President and Chief Operating Officer, was a member of the original JD Edwards G.A.T.S team. Michael Morgan is the Chief Executive Officer as well as the acting Chief Financial Officer brings emphasis and expertise within business development.
Headquartered in Dallas, TX and with offices in Los Angeles, CA and Pune, INDIA, CAPSCIENT is one of the nations leading JD Edwards consultancies and value systems integration firms specializing in Oracle JD Edwards services. CAPSCIENT is an Oracle Platinum Partner and is certified to implement Oracle's Business Accelerators for JD Edwards EnterpriseOne's 9.1.