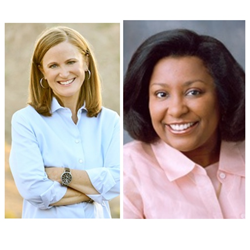 (PRWEB) June 03, 2014
In March, the author first announced former Iowa state Supreme Court Justice Marsha Ternus and an Oprah's Book Club author Jane Hamilton, as two of the six women featured in the upcoming book. The remaining two women featured will be announced in mid June 2014.
The book will highlight six women who encompass the traits of an outlier, identified over thirty years of author John Shufeldt's career.
"There is no cookie cutter or formula for an outlier," said Shufeldt. "You simply know one when you see one, and the women featured have pushed the envelope in one way or another to break stereotypes, accomplish more than they ever imagined and even make history."
One of today's announced women, Christine Jones became an official 2015 Arizona Gubernatorial candidate qualifying for the AZ ballot after turning in 21,580 nominating petition signatures, nearly four times the minimum number required, in late April 2014. Jones, who previously worked as the chief legal counsel and vice president at GoDaddy, made it a priority to be leader in the fight for a better, safer online experience for users, particularly children. Click here to view her campaign website as a Republican Candidate for Arizona Governor.
Mildred Oliver, whom was also announced, is the CEO and founder of Midwest Glaucoma Center, P.C. Oliver is also an at-large member of the Board of Trustees for the American Academy of Ophthalmology (AAO). Olivier's work has earned various honors including the American Glaucoma Society's Humanitarian Award (2012), and AAO's Secretariat Award (2011).
For more information on the Outlier Series visit http://www.ingredientsofoutliers.com.
About the book:
Ingredients of Outliers: Women Game Changers was inspired by several women encountered by author John Shufeldt, who exemplify the rare and exceptional qualities of outliers. The 125-page-book is packed with advice and inspirational stories from "outliers," in this case exemplary and influential women as well as chapters on John's personal experiences and endeavors. A few of the featured women include Jane Hamilton, author of A Map of the World, of Oprah's Book Club Collection; Marsha Turnus, the first woman to serve as chief justice of Iowa's highest court; Christine Jones, an Arizona 2015 Gubernatorial Candidate; and Mildred Oliver, CEO of Midwest Glaucoma Center, P.C.. The purpose of this book is to act as a surrogate mentor to young ladies, and anyone out there, man or woman, looking to achieve more than they previously imagined was possible.
Ingredients of Outliers: Women Game Changers is preceded by the first book in the Outliers Series titled, Ingredients of Outliers: A Recipe for personal Achievement, published in July 2013 and the second book in the Outlier Series, Ingredients of Young Outliers: Achieving Your Most Amazing Future, published in March 2014. The Outlier Series will include at least eight other books published over the course of 2014-2015, and will include books specific to sought after career fields with insider information and recommended channels for pursuing that career from experts in each respective profession.
About Author John Shufeldt:
As well as being a practicing doctor and lawyer, Shufeldt is also a pilot (both plane and helicopter) and a business entrepreneur (and if pressed, he will reluctantly admit to being a 'budding' chef and taekwondo black belt). Shufeldt received his BA from Drake University in 1982 and his MD from the University of Health Sciences/ The Chicago Medical School in 1986. He completed his Emergency Medicine Residency at Christ Hospital and Medical Center in 1989 where he spent his final year as Chief Resident. He received his MBA in 1995, and his Juris Doctorate in 2005, both from Arizona State University. He is admitted to the State Bar in Arizona, the Federal District Court and Supreme Court of the United States. Shufeldt is also an adjunct professor at the Sandra Day O'Connor College of Law where he teaches a clinic on Health Law Entrepreneurism. He serves on the Drake University Board of Trustees and the Sandra Day O'Conner College of Law Alumni Board.