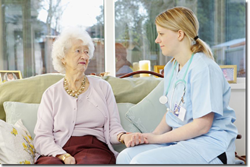 . "There is no 'one-size-fits-all' solution for all families. We're here to provide financial advice that our clients can trust, and to offer strong value for them no matter what their needs may be.
Cherry Hill, New Jersey (PRWEB) June 03, 2014
For grown children, planning out the resources needed for ensuring their parents enjoy long-term care and well-being can be an emotional and challenging process. A free, comprehensive guidebook from Safe Money Resource gives families in-depth information about one option, long-term care insurance, which can be used for the day-to-day living needs of their aged parents.
Long-term care refers to living assistance in which an aged person receives help with his or her daily living activities, such as getting dressed, eating, or bathing. Such needs can often be attributed to age, illness, injury, or even cognitive disorder. Oftentimes long-term care is provided by specialized facilities such as retirement living centers, private homes, nursing homes, and other locations for elderly adult populations.
"Watching our parents get older is emotionally taxing. It's equally demanding to make sure financial resources are in order for them in their elderly stages of life," said Brent Meyer, President of Safe Money Resource. "Long-term care insurance represents one way of ensuring financial stability for aging parents. But like other options, it requires asking the right questions of your financial advisor and being aware of its advantages and downsides. Long-term care insurance, like any other financial product, is not always the best solution for all families."
To help grown children understand the ins-and-outs of long-term care insurance, Safe Money Resource has stocked the free guidebook with comprehensive, need-to-know information. With the guide, families will learn of what questions to ask a financial advisor, what exactly long-term care insurance is, and how to compare long-term care insurance policies.
Other content in the guidebook includes:

Policy features and provisions a family should pay attention to
The cost of a long-term care insurance policy and what determines the cost
Why aging baby boomers may need long-term care insurance
Factors to consider before purchasing a long-term care insurance policy
Other critical information for helping families make educated financial-planning decisions
Extensive information about long-term care insurance and the free guidebook can be found at the Safe Money Resource website: http://safemoney.com/long-term-care.
Of course, long-term care insurance is not the only investor option for long-term income stability for aging parents. SafeMoney.com has many articles and resources on the different options available, including up-to-date information on annuities, life insurance, social security, IRAs, and other investor options for a guaranteed lifetime income. In short, SafeMoney.com serves as a one-stop center for empowering families to help their parents carefully and effectively map out their financial futures.
In addition to comprehensive information, Safe Money Resource offers families access to a small network of trustworthy, independent financial advisors. Unlike most financial advisors who are "captive" to one insurance company's financial products, Safe Money Resource's retirement planning specialists enjoy strong relationships with multiple insurance carriers. They are able to show families many products available for retirement investment and differences in product pricing, features, and services from various insurance carriers.
Meyer explained on top of their ability to offer many financial products, Safe Money Resource's advisors network is bound by a strict code of professional ethics and integrity. All advisors who want to be part of Safe Money Resource's trusted team undergo an in-depth examination of their background, track record, and commitment to being "clients first" minded professionals. Once they are "Safe Money Approved", the advisors agree to abide by Safe Money Resource's strict code of ethics. That means they will always look out for the needs of their clients and conduct their practices with the utmost professional ethics.
"Simply put, Safe Money Approved advisors are completely committed to their clients' long-term financial security. We never put our personal interests ahead of our clients' unique needs or financial well-being. It's a matter of not just maintaining a strong professional reputation, but more importantly doing the right thing," explained Meyer. "There is no 'one-size-fits-all' solution for all families. We're here to provide financial advice that our clients can trust, and to offer strong value for them no matter what their needs may be. We'll take the time to listen to what you need and help you plot out the course of action that's best for your parents' future stability."